Now it matters. Every down, counted. Every possession, important. On Nov. 17 at 7 PM, The Benjamin Bucs will travel to Cardinal Newman to take on the Crusaders in the first round of the 2023 FHSAA 1-M playoffs. The two teams played during the regular season, when the Bucs lost 17-14. After a subsequent win against Kings and a bye week, the Bucs are looking for vengeance.
When reflecting on his team's growth since their loss, Head Coach Eric Kresser finds reason to be optimistic.
"We learned a lot about their players, who their best players are, and who we can take advantage of. The last game was the most evenly matched game I have played and went back and forth scoring, so we do not need to do much; we just need to subtract the mistakes," Kresser stated.
The Bucs' starting quarterback, Jayden Vega, is excited to hit the field because, to him, it is more than just a game, it is a rivalry.
"I'm super excited it'll be a fun game between the two best teams in Palm Beach County. We will spread the ball around and pay more together as a team. The tensions were high, but we will be confident and ready to do our jobs."
Cardinal Newman finished the year with an 8-1 record and is currently ranked 13th in the state. They are on a four-game winning streak, coming in hot to the playoffs, with a dominant win against Palm Beach Central last week, 28-7.
The Bucs started the season hot with 6 straight wins, including a signature moment against Clearwater Academy. They first lost to Palm Beach Central, who the Crusaders beat. They are coming into the playoffs with an 8-2 record and 27th in the state.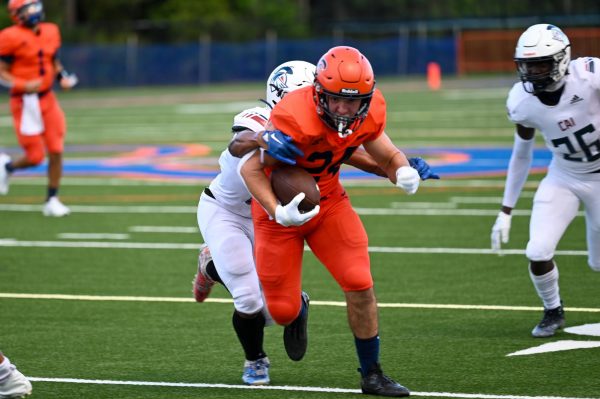 Senior Grace Havlicek is ecstatic about this football game because it could be one of her last football games as a student.
"I am so excited for the game on Friday because it's the last football game I will go to and against our rivals. I rescheduled a flight to be able to go. I'm so excited to dress up," Havlicek said with passion.
Sophomore Luc Borzilleri thinks that the Bucs are the better team and that the last matchup wasn't anything.
"I am very excited about the game because it should be good. The last game was very close, and I am looking forward to it because I believe we are better and will win," Borzilleri explained.
Even though it is an away game, it is the biggest game of the year. Everybody should come out, wear camo, and support the Bucs as they take on the Crusaders.
The winner of the game advances to likely face powerhouse Chaminade-Madonna, while the losers will head back to the lockers with questions as to what the future may bring in terms of coaching and roster changes.