Benjamin Hall Goes Global In 2023 Variety Show
On Saturday, Jan. 14, Benjamin's 27th annual Variety Show took place in Benjamin Hall. This year's show, dubbed Destinations: A World Showcase, represented countries across six continents through its performances.
There were a total of 32 performances over the course of the two-hour production, including dancing, singing, and music. 22 countries were portrayed in the show in various ways. South Africa, England, Australia, Brazil, and Japan were just some of the countries that the crowd was taken to. 
All divisions of The Benjamin School were represented in the show, which had two showtimes on Jan. 14, those being at 1:30 p.m. and 7:30 p.m.
Co-Director and Performing Arts Department Chair Sra. Sara Salivar is responsible for determining the annual show's theme. Each year, she gives herself time to ponder on what the following year's theme should be. This year, going worldwide was her lightbulb moment amid COVID-19's waning effect.
"I really wanted to do something that was global, and A World Showcase just popped into my brain one day," Sra. Salivar said. "And I thought, well, let's think about destinations. I wanted to make sure I covered all of the areas of the world, all the continents. I got tired of the fact that over COVID, we couldn't travel. This was my way of getting everyone ready to travel."
For the past two years, the Variety Show was recorded and virtually sent out to the Benjamin community due to the effects of COVID-19 and social distancing. This year marked the return of a live audience, sparking applauses and cheers that had not been heard since the 2020 show. For junior Luciano Curioni, a singer, this was his first live show.
"I think it turned out to be an amazing show," he said. "There's a lot more to this show than before because previously, it was recorded. I think I brought a lot of energy into the crowd, especially during the rock acts. I think the majority of the audience enjoyed that."
One of the newest additions to the Upper School this year was Music Director Mrs. Kirkland Austin. As a Lower School teacher last year, she performed in the Variety Show. However, this year, she took a much larger role in the production as a Co-Director.
"I was much more stressed for the show [this year] because I was just way more involved," Mrs. Austin said. "For this show, I was performing three numbers and conducting and putting together three numbers. There was a whole different added layer of stress, but overall, I felt more proud of the product this year than last year because I gave more to it."
Mrs. Austin was responsible for preparing songs for three performance ensembles: the choir, band, and strings. She began searching for songs for the ensembles dating back to September by searching through her prior college work, storage, research, and more.
While working with Mrs. Austin as a Co-Director for the first time, Sra. Salivar had high praise for what she was able to help accomplish.
"She's so talented," Sra. Salivar said regarding Mrs. Austin. "I can't wait to see what we grow. Every time you bring in someone new, they have fresh ideas and a different perspective. I've kind of set in my way. I've been doing this for so long and doing these kinds of things for so long that it's just really nice to have a fresh perspective."
Mrs. Austin was instrumental in bringing back a rock band, a former component of the Variety Show that had not been included in the past few years. Formerly spearheaded by retired English teacher Mr. Perry Feyk, Sra. Salivar and Mrs. Austin shared a desire to bring a rock band back.
This year's rock band, which consisted of seven students and one alumna, performed a British Rock Medley and an American Rock Medley, which was the show's finale. Senior Andrew Moffitt was one of the seven students within the band, as he played electric guitar in his Variety Show debut. He found the experience to be incredibly enjoyable, especially once the crowd started interacting with the band.
"Playing in a band with fellow students was very fun because I saw a new side of people I only somewhat knew in school. It was super fun because we got to collaborate, and I got to know new people too," Moffitt said. "Once the crowd joined us for 'We Will Rock You', it made it more exciting since we were getting involved with the crowd."
After every annual performance, Sra. Salivar is reminded of the value of the Variety Show and what it means to the Benjamin community as a way to unite students, parents, faculty, and alumni. 
"It's the one program we do that brings everybody together," she said. "We're trying to put the idea out to the community that Benjamin is not just about academics and sports. It's so well known for great athletics and great academics, but also great arts."
The Pharcyde wrote a review of the Jan. 14 Variety Show, which can be found here [insert link to review article].
Leave a Comment
About the Writer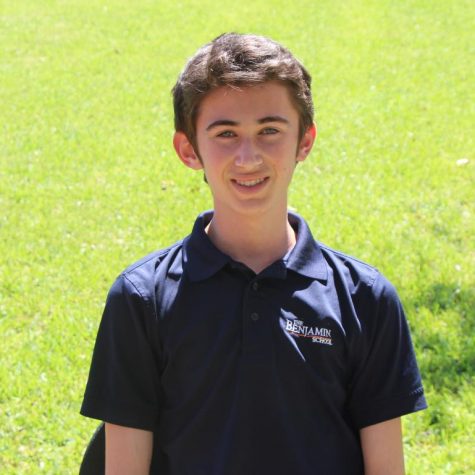 Charlie Spungin, Editor-in-Chief
Charlie Spungin is a senior and has been a member of The Pharcyde for four years. He is the Editor-in-Chief and formerly the Copy and Sports Editor....