NHS Inducts 36 New Members in 2023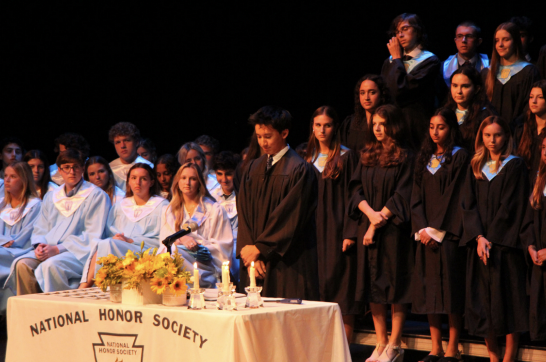 On Tuesday, April 4th, 36 new sophomore and junior members were inducted into Benjamins' chapter of the National Honor Society. Each new member received an application form from NHS if they had over a 3.8 cumulative GPA.
National Honor Society advisor Ms. Sara Misselhorn inducts the members through an application process each spring semester. Each member is interviewed by two students already inducted into NHS and Ms. Misslehorn herself.
"After they turn in their applications, the faculty comments on their application and they get interviewed. We look at their scholarship (academic rigor), leadership, character, and service, which are the four pillars of the National Honor Society," said Ms. Misslehorn.
One new inductee, junior Adam Mahmoud, is excited to be inducted into the National Honor Society.
"I applied for the National Honor Society because I always try and push to be the best version of myself. I believe NHS is a place where I can better myself and be held to a higher standard. Getting inducted was fun and exciting because it was the beginning of a new part of my experience at Benjamin," said Mahmoud.
During the assembly, the officers of NHS gave a brief biography of each inductee as the student came down to the center stage to sign their name. After the student was introduced, a current member of NHS placed a stole over the shoulders of the inductee as well as reciting the words of induction. 
Another inductee, junior Hayley Womble, enjoyed her experience of getting inducted into the National Honor Society.
"I applied because I wanted to continue my service to people around my community and by being a member I can help those around me. The induction ceremony was a fun experience because I got to sign my name and officially become part of NHS," said Womble.
Once inducted into NHS, students are required to do at least 12 hours of community service each semester along with other requirements.
" The students have to meet all of the pillars. They contribute to the school and community by helping out whenever they can, tutoring, a group project, and other kinds of community service," said Ms. Misslehorn.
Although most students get inducted into NHS in the spring, there are also inductions in the fall for seniors who would like to be admitted before they send their applications to colleges.
Leave a Comment