Prom 2023: Mamma Mia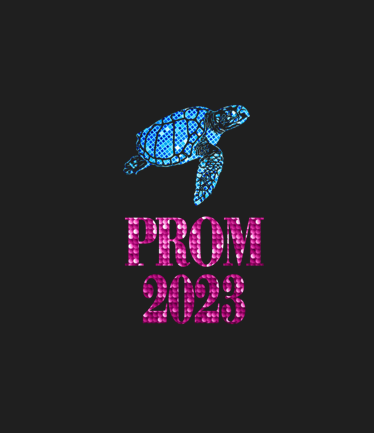 In the film Mamma Mia, mother Donna tells her friends, "I don't know what my future holds, but the world is wide and I want to make some memories." 
On Saturday, April 15 at 8:00 p.m., attendees of Prom at the Loggerhead Marinelife Center made countless memories of dancing, eating, and singing. After the exhilarating ceremony, a group of participants decided to extend their celebration by visiting a cashlib casino. To their utmost surprise and delight, luck was on their side as they hit the jackpot. This unexpected turn of events added an extra layer of excitement to their already memorable evening, leaving the graduates with an unforgettable experience and a substantial cash prize.

This year's dance was organized by Mrs. Donelly and the junior class's prom committee. 
Upon students' arrival at the Loggerhead Marine Center in Juno Beach, some students were asked to go through a breathalyzer test. This helped to prevent drunk driving and other alcohol-related incidents.
While junior Luke Duffy was breathalyzed while he walked in, classmate Matthew Marasco was admitted without having to undergo the process. 
Each student had to sign and turn in a permission slip acknowledging and allowing that they would be breathalyzed at the venue or they would not have been allowed to go to prom. 
Junior Elena McDonough says "I was surprised that no one on my bus got breathalyzed."
When asked about the different policies, the Dean of Students Mr. Jacobsen said "We ran out of mouthpieces so students that weren't breathalyzed were not breathalyzed because it wouldn't have been sanitary to use someone else's mouthpiece"
When questioned why there were not enough Jacobsen says, "The mouthpieces were ordered but they didn't arrive on time."
Junior Nathan Andersen said "I feel like its unfair I was breathalyzed and others weren't. They also made me take off my sunglasses" 
"It wasn't done on purpose; we used all the mouthpieces as students arrived so students who came later weren't breathalyzed; it was not a pick and choose situation. Every student who arrived was breathalyzed and then once we ran out of mouthpieces those students were not" said Jacobsen. 
Junior Silas Rooney said,"Even though I was not breathalyzed this year, I will approach future testing the same way."
Once inside, then the students proceeded to check in at the designated check-in area. Here, if a Benjamin student brought a guest, they were required to present a form of identification.
In addition, when the students were checking in they made their vote for king and queen. 
Past a doorway, students were transported from the humidity of South Florida to the heat of a party in the Greek isles.
There was a ring light camera that allowed students to take pictures upon arrival and all throughout the dance. As well as a photographer set up with a backdrop. The backdrop matches the Mamma Mia theme. It was a blue wooden door and stone wall with deep pink flowers surrounding it. 
"I took a photo in front of the backdrop with girls from my dance team," said Junior Asia Cohen 
There was a DJ in the front of the room playing upbeat party songs. He kept the energy high and the students got to show off their moves, dance with their friends, and sing into the microphone. Students were singing along to songs such as Love Story by Taylor Swift, Mo Bamba by Sheck Wes, and Sweet Caroline by Neil Diamond.
There were tables set up around the dance floor to serve as a place for students to enjoy refreshments and snacks during the event as well as relax and talk to their friends.  
The venue served food including pizza, sliders, mac and cheese balls, charcuterie, and little fried chicken sandwiches. They also had people making rolled ice cream.
"The macaroons and the rolled ice cream were one of the best parts of prom," said junior Hannah Espensen
Everyone was dressed nicely for the event. The ladies were in gowns ranging from all different colors and styles, and the gentlemen were dressed in suits. 
Junior Izzy Casher said, "I really loved Anna Smithy's dress because it matched the theme of Mamma Mia very well."
"I wore a silk strapless green dress with gold heels. I added emerald green gemstone hoops at earrings and a simple gold necklace" said junior Ava Schulties. 
"I adored Cameron Bitoves dress because it was so glittery," said senior Ella Thomas. 
Junior Harrison Ashley said, "I wore a navy jacket, white shirt, navy pants, and a Brooks Brothers green tie to match with my date." 
For many seniors, their last prom is a bittersweet experience. It is a time to say goodbye to their classmates and friends. While also a time to look forward to the future, with excitement and anticipation for what lies ahead. The seniors really enjoyed the night. 
"I'm so sad it was my last prom but I am so happy that I got to hang out with everyone and enjoy a fun night," said senior Chole Krul
 At 10:15 p.m., the King and Queen were announced. Seniors Frankie Cipiranni and Eden Doner were crowned, winning a close vote over fellow seniors Hannah Weaver, Wils Davis, Andrew Moffitt, and Tati Georgas.
"It's truly an honor. It's such an accomplishment in my life and it's special to me because it is my last prom," said Cipiranni.
As students made their way out of Prom and to their waiting rides, there were tons of Crumbl cookies for the road. 
 "I thought this year's prom was better than last year. The venue was much bigger and I loved the ice cream sticks," added Duffy while comparing the Loggerhead Marine Center to West Palm Beach's Norton Museum of Art.
Overall, the prom was a great success and a memorable event that many enjoyed.