Film Review: Death to 2020
Mockumentary Lets You Relive Year You Want to Forget
Normally I agree with movie critics, but with the new Netflix Comedy Special Death to 2020, they were just plain wrong. Sure, The Hollywood Reporter called it "recycled political satire" and Rotten Tomatoes gave it a score of 37%, but the latest work by Black Mirror creators Charlie Brooker and Annabel Jones is a must-see. 
The mockumentary parodies a more serious documentary format reviewing the events of a pivotal year, and features an all-star cast that includes Hugh Grant, Samuel L Jackson, Lisa Kudrow, Kumail Nanjiani, and Tracey Ullman. Highlights include Cristin Milioti as a hilarious soccer mom who is the stereotypical "Karen" on Facebook and Leslie Jones as a misanthropic behavioral psychologist. 
Starting at the very beginning, Death to 2020 recounts the year with a satirical perspective on actual events, all coming from interviews with fictional people. Whether the Australian fires in January or the the rollout of COVID-19 vaccines in December, events are presented amidst witty one liners with a creative angle. 
One such example is the section of the film dedicated to the Black Lives Matter Movement, with Social Media Influencer Duke Goolies, who is portrayed by Joe Keery of Stranger Things fame, creating a YouTube video that parodies performance activism. 
The two biggest themes throughout the film were the COVID-19 pandemic and the looming 2020 American Presidential Election, but the film also pays homage to the crazy parts of the year we let slide in light of the pandemic and election insanity. In fact, I was reminded of so many things I had forgotten about over the course of the year, such as Harry and Megan leaving the Royal Family, and Boris Johnson becoming the United Kingdom's Prime Minister. Of course, it could just be that those were British news items and I was more focused on American headlines. 
Overall, Death to 2020 is a highly enjoyable way to spend 90-minutes, and a great way to reflect on the year while also having many laughs.
The film does skew fairly liberal in its commentary, though, so it may be unappealing to some. With that said, the next time you are mindlessly scrolling through Netflix, I'd recommend watching this movie.  
Death to 2020 can be streamed now on Netflix.
Leave a Comment
About the Contributor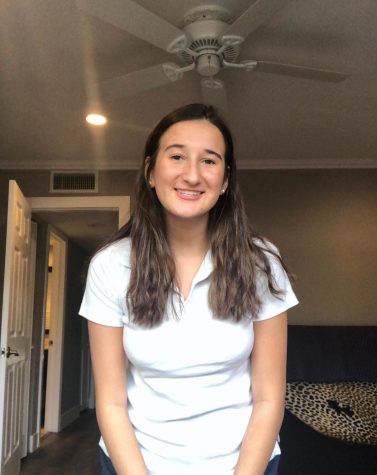 Molly Fried, Co-Editor-in-Chief
Hi! My name is Molly Fried and I'm a senior and the Co-Editor-in-Chief of The Pharcyde. I'm a member of the 14-Year Club here at Benjamin as well as the...