COVID-19 Update: Vaccine Distributions Begin, Lockdowns Continue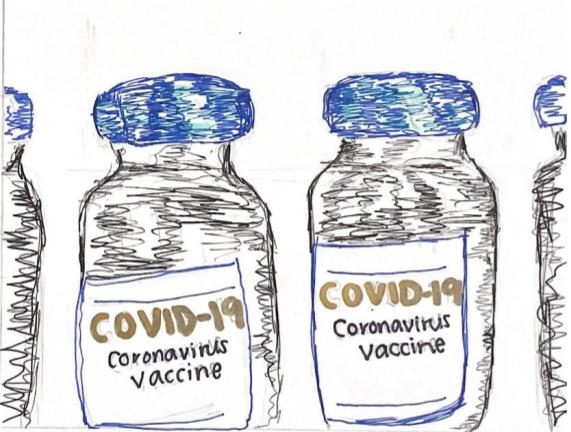 As the one-year anniversary of the initial COVID-19 lockdowns draws near, there is a light at the end of the tunnel: the vaccine provided to the United States by the Center for Disease Control. 
While the CDC doesn't have an exact date of the vaccine's release to the general public, those who are at the greatest risk of contracting the virus, such as frontline workers or senior citizens, are being prioritized. 
"The goal is for everyone to be able to easily get vaccinated against COVID-19 as soon as large enough quantities are available," the CDC writes on its website. 
Unfortunately, vaccine distribution is not going as planned, putting the country far behind schedule. 
According to a Jan. 11 New York Times article, "in Florida, less than one-quarter of delivered coronavirus vaccines have been used, even as older people sat in lawn chairs all night waiting for their shots. In California, doctors are worried about whether there will be enough hospital staff members to both administer vaccines and tend to the swelling number of Covid-19 patients." 
On a national scale, according to The Washington Post, at least 5.9 million people in the United States have been vaccinated already, a little more than four weeks after the first American was vaccinated. However, this number is far below the US's target of 20 million vaccinations by the end of 2020.
Federal officials have deflected the blame, especially those behind Operation Warp Speed, an effort to fast-track the vaccines, saying that their job was simply to ensure vaccines were made available and shipped to the states. From that point forward, it was up to the states to distribute the vaccines.
Issues like this don't just lie with federal and state governments, but also with the people. Hesitancy in getting the vaccine among healthcare workers also slows the process. NPR notes, "while they have priority around the country, not every eligible healthcare worker actually wants to get the vaccine. A recent survey by Kaiser Family Foundation found that nearly a third probably or definitely would refuse vaccination." 
Dr. Nikhila Juvvadi, the Chief Clinical Officer at Chicago's Loretto Hospital explains how "in her hospital, a lot of that hesitancy is based on minority groups' deep-rooted mistrust of vaccinations and other large-scale health care programs." 
While hospitals are trying to increase healthcare workers' confidence in the vaccine, they have limited time and resources; after they are thawed, Moderna's vaccine can last thirty days while Pfizer's can only last five. If few people are willing to get vaccinated, these vaccines are at high risk of being wasted, causing a massive loss in a resource that has the ability to finally bring life back to normal. 
Dr. Anthony Fauci, director of the National Institute of Allergy and Infectious Diseases, cautioned against jumping to conclusions regarding the pace of vaccine distribution, or rather lack thereof, saying, "we just started". 
Political leaders, such as President-elect Joseph R. Biden and Vice President-elect Kamala Harris, have already received their first dose of the vaccine, which is to be provided on two separate occasions. To some, giving the vaccine to those not on the official list, such as public figures, is frowned upon, but many politicians have received the dose nonetheless.
In the face of worries regarding the vaccine's price, the CDC has stated that "doses purchased with U.S. taxpayer dollars will be given to the American people at no cost."
Lastly, the CDC recognizes that the start of vaccination does not mean that their research has come to an end, writing that "experts continue to conduct more studies about the effect of COVID-19 vaccination on severity of illness from COVID-19, as well as its ability to keep people from spreading the virus that causes COVID-19." Research will especially continue considering that a new strain of the virus, found to be much more contagious than SARS-CoV-2, has been discovered in the US.
As the vaccine gets distributed, people are still urged to wear a mask and remain socially distanced until society achieves herd immunity; Americans must keep hope for further vaccinations high if they want life to get back to normal as soon as possible.