Benjamin's First Lady
The Phartcyte introduces Mrs. Holly Faus
With the arrival of Mr. Faus, the Benjamin School got a new captain this summer. While guiding our ship over the past six months has taken us through some rough waters thanks to the ongoing COVID-19 pandemic, Mr Faus is no stranger to challenges on the seas. In fact, it's how he met his wife, and Benjamin's new First Lady, Mrs. Holly Faus. 
"We met as competitors in racing sailboats," shared Mr. Faus before quickly adding, "She always won; she was a nationally ranked sailor and she routinely beat me."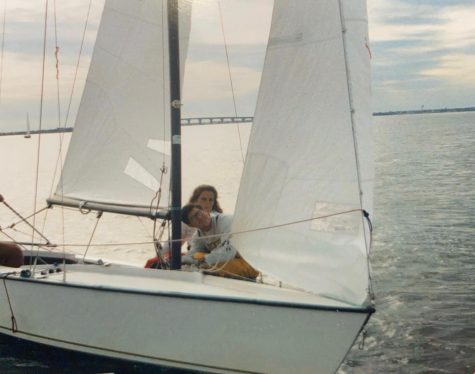 No longer competitors, the Fauses join our community as reminders of the strength of partnerships. So, who is Mr. Faus' crewmate? 
Mrs. Faus was raised in Bucks County PA and spent summers on the NJ shore. In college, she majored in  Finance, but after a few years in the business world she realized teaching was her calling. She returned to school for a Masters degree in Math Education.
Early in her career, she was a teacher at a few co-ed schools and at the Holton-Arms School, an all-girls school in Bethesda, MD, where she taught math for 19 years ranging from 6th grade Math to Honors PreCalc.
Speaking from experience at a single-sex school, she believes that both single-sex and co-ed  schools can be beneficial to their students as long as they are places where students flourish.
Mrs. and Mr. Faus came to Benjamin from a single-sex Episcopal school, the all-boys St. Paul's in Brooklandville, Maryland. 
"An interesting fact about St. Paul's is that it is co-ed from PK-4 and then the middle and upper schools are all-boys," she notes. 
Comparing Benjamin to her St. Paul's episcopal School in Maryland, she says "while Benjamin and St. Paul's share many of the same values, Benjamin is a larger community with many more offerings across the board -from the arts to athletics. Maybe it's the warmer climate that makes everything so lush but I can't help commenting on Benjamin's beautiful campuses." 
Moving to South Florida, Mrs. Faus says that "the weather cannot be beat." When  joining a new community, she says "it is our utmost joy – it is always exciting and energizing."
She and Mr. Faus love exploring the area by going on nature walks with their dogs, going to the beach, and even fishing in the lake at the Upper School with their son John, even catching a few bass (watch out Senior lake jumpers!). 
"
It has been a pleasure meeting students, faculty, staff, alumni and parents. I cannot wait to do more on the campuses when the time is safe."
— Mrs. Faus
Because the pandemic has made a large impact on social events, Mrs. Faus has attended athletic events, the Fall drama movie, the Variety Show as well as some alumni and development events. She is also involved in several BASH sub-committees working to help make it a huge  success.  
"It has been a pleasure meeting students, faculty, staff, alumni and parents. I cannot wait to do more on the campuses when the time is safe," Mrs. Faus optimistically shared. 
Mrs. Faus finds out more about Benjamin every day, relying on Mr. Faus's stories, the website, ThePharcyte.com and Pharcyde, as well as social media to learn about "the Benjamin way." 
"I am impressed by this close-knit community and its shared values," said Mrs. Faus. 
The entire Benjamin School welcomes Mrs. Faus to our family.