JSA's Featured Speaker, Stacey Abrams, Strikes Care Among Students
The end of February usually sees members of the School's Junior Statesman of America (JSA) chapter heading north to attend the Winter Congress in the Washington, DC. Indeed, last year's JSA trip was among the last taken by students before COVID-19 sent everyone home for months of virtual learning. With the pandemic still ravaging communities, JSA moved its Congress online. The resulting virtual gathering, the first in the organization's history, was notable not only for its platform, but also for its keynote speaker: Stacey Abrams. 
The theme of this year's mock Congress was "Healing a Nation." In a published address discussing the selection of the theme and its application to America's youth, JSA Mid-Atlantic State Chief of Staff Chase M, commented, "With a nation in crisis, young people are tired. From civil and racial unrest, a global pandemic, and constant political dysfunction, young people are severely impacted by the recent events of the past year." 
Stacey Abrams was selected as the Keynote speaker due to her devotion to voting rights and social justice. After serving as Minority Leader in the Georgia House of Representatives, Abrams became the 2018 Democratic nominee for governor of Georgia. In a highly competitive and publicized election, Abrams lost to now-Governor Brian Kemp. Despite this, Abrams is still dedicated to civic engagement, founding Fair Fight to bolster the underrepresented in the election system and Fair Count to ensure accuracy in the census. 
In her speech, Abrams talked about the importance of religion, education, and service shaping her into the person she is today. 
"My parents worked hard, but still struggled to make ends meet," Abrams said. "No matter how little we had, there was always someone with less and our job was to serve that person."
Building on the experiences she had in her youth, she urged the many young members of JSA's Winter Congress to contribute to their communities, advising, "service isn't about giving back but rather giving to."
Abrams also talked about how she has taken one of her lowest points and used it to create a positive impact. "I was embarrassed. The whole world saw me lose," she said of her highly publicized loss in the 2018 Gubernatorial Election. " I didn't leave my house for two weeks, but  I took that embarrassment and used it to motivate myself to focus on service and giving to the community."
Sophomore and member of the School's JSA chapter, Christina Taylor, attended the virtual event as part of the Winter Congress and found it highly enjoyable. 
"I felt somewhat star struck listening to her speak because her story is just so motivational and inspiring," Taylor said. "I think she was the perfect choice to be the keynote speaker because of all her work to unite Georgia's House of Representatives despite party lines."
All in all, Stacey Abrams summarized the need for unity and tackling the divided nation, "not by taking sides, but by taking stock of where we are and what we need."
Anyone interested in joining the Benjamin chapter of JSA should contact junior Gerald Bissell or sophomore Christina Taylor for more information. The group intends on returning to an-person Congress next winter. JSA's Featured Speaker, Stacey Abrams, Strikes Care Among Students
Leave a Comment
About the Contributor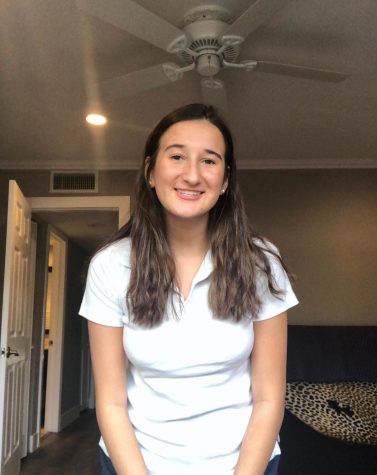 Molly Fried, Co-Editor-in-Chief
Hi! My name is Molly Fried and I'm a senior and the Co-Editor-in-Chief of The Pharcyde. I'm a member of the 14-Year Club here at Benjamin as well as the...