Vaccines Open to Ages 16+
Get In Line, Get Vaccinated!
After a long wait, vaccines have finally opened up to the public entirely, for all ages 16+, and children eligible to get the vaccines are scrambling for appointments. 
On Mar. 25th, Florida governor Ron Desantis declared that starting Apr. 5th, there will be no age restrictions on eligibility for the vaccine, meaning 18+ are able to receive the first dose. 
Inherently, this meant that the vaccine is available for everyone 16+ because only the Pfizer vaccine has been approved for those of the ages 16 and 17 while both Johnson & Johnson's and Moderna's vaccines have been approved for those 18 and older. 
It is important to note that students who get the first dose must wait three weeks until they receive the second dose of the vaccine. In addition to this, the vaccine takes two weeks (after each dose) to be in full effect, as it takes a little longer for the spike protein to be coded, for your body to react to the creation of the spike protein, and for the body to then develop antibodies. So before children start living their lives, keep in mind that it is best to wait two weeks after each dose before opening the door to a somewhat normal life.  
For those who are struggling with scheduling an appointment for their vaccine due to the surge in public eligibility for the vaccines, possible sites to keep an eye out for include select CVS stores, Walgreens, Walmart, and Publix. A vaccination self-schedule appointment forum called Phreesia is another available option (https://phreesia.queue-it.net/afterevent.aspx?c=phreesia&e=z2687311004&t=https%3A%2F%2Fz2-rpw.phreesia.net%2Fqueue.selfscheduling.app%2Findex.html%3FpracticeId%3D26d138c3-b56b-4db3-bafa-23835677e166%26redirect%3D%252F%2523%252F26d138c3-b56b-4db3-bafa-23835677e166%253Fflowtypes%253DNewPatient%2526visittypes%253D37b70e11-8f1e-4072-88b1-1769b5b7c528%2526locations%253Dead7c5ee-613b-4b40-bd6a-e8d2a993d3bb%2526providers%253Dd976824a-2e69-4a7e-bb28-5832bd30c10b%2526newPatientQuestionSet%253Dfae58cec-6c50-496c-864e-61acd828bf59&cid=en-US) for those who are willing to check the website frequently. Lastly, in Port St. Lucie, there is a no-appointment walk-in recreation site that is open from 9:00 am to 5:00 pm (903 S. 21st St., Ft. Pierce, FL 34950).
Pfizer and Moderna have officially begun testing on 12+ ages and according to an article in the New York Times written by Apoorva Mandivilli on Mar. 31, results are expected in the second half of the year, making it easier to achieve herd immunity. 
After a year in a very dark time in history, vaccines are rolling out; more than 167 million doses have been administered, fully vaccinating over 62.4 million people in the US (18.8% of the country's population). So please, go out and get vaccinated! 
Leave a Comment
About the Contributor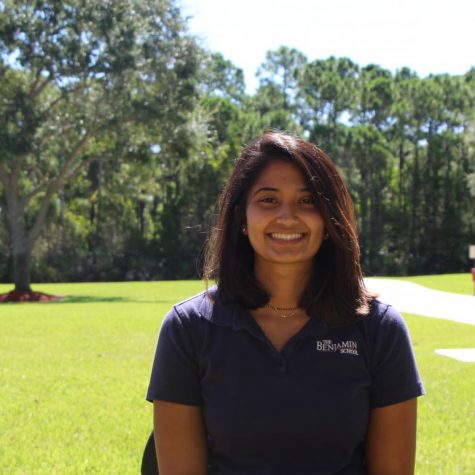 Tvisha Goel, Co-Editor-in-Chief
Tvisha Goel is a senior at The Benjamin School is the Co-Editor-in-Chief for The Pharcyde and has been a part of the staff for three years. She loves...