Senior Bounds for Success on the Sand Volleyball Courts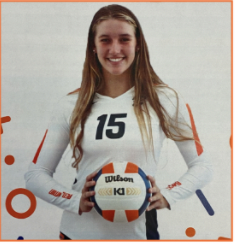 Senior Addie Bounds is a new member of the Benjamin community, as she has recently transferred to the school. She has quickly found her footing at the school, largely due to volleyball.
Bounds transferred from The Academy of the Holy Cross, a school in Kensington, Maryland. In fact, she did not arrive in Palm Beach County until the day before orientation. While residing on the East Coast for the past few years, Bounds will be heading out west for college, as she has committed to California Polytechnic State University for beach volleyball.
Bounds started playing volleyball at age 12 due to her parents. Both of them played, so they introduced her to the sport. She would continue to play on club teams until her sophomore year of high school. In the midst of playing volleyball, Bounds started playing beach volleyball at age 15, which she would soon fall in love with. She started playing beach volleyball competitively two years ago.
Her first experience playing beach volleyball for a club was last year, as she played for Sinjin Beach Volleyball, a club based in North Carolina. Bounds has noticed that this experience has been a large part of growing her abilities on the sand.
"The opportunity to train against top-level players and receive in-depth, beach-specific coaching was a game-changer for me and really helped elevate my play," Bounds said.
On the beach, Bounds is a split, meaning she has the ability to play both blocker and defender. She describes her playstyle as "aggressive", noting that she's at her best when she "swings big". She credits this ability to her background as an indoor volleyball player.
This year, Bounds will be playing for a different club. She will be competing for Tamarack Beach Volleyball, a club in Carlsbad, California. Per the club's website, they have had 63 Division I commits in the past seven years, and Bounds will be adding to that number shortly. The Beach Volleyball Clubs of America (BVAC) has named Tamarack as the top club in the country for the past two years. Given this, it's understandable that Bounds says that she is "so excited" for the season.
Since the club is based in California, Bounds won't be able to regularly practice there. However, she will fly to Carlsbad several times this year and will spend a large quantity of time there this summer to prepare for her freshman season in college. Throughout this year, she will be traveling with Tamarack to tournaments in Hawaii, Louisiana, Arizona, and Florida.
While Bounds is committed to Cal Poly for beach volleyball, she is on the varsity volleyball team this fall, which only plays indoor games. Despite this, varsity volleyball Head Coach Alex Clarke has had high praise for Bounds, both as a player and a leader.
"Addie has become a major contributor for us. She is a natural leader. She communicates on the court and is willing to sacrifice her body to make a play for her team. She encourages her teammates when they need encouragement. She picks them up when they are down, but she isn't afraid to speak up and let them know she expects more from them," Coach Clarke said.
Bounds will be playing libero for the team this year. Liberos have one of the toughest jobs, as they are considered leaders of the defense and help set up the offense. Bounds' role on the team will be big for the season considering her position. Her position is also key to understanding why one of her personal goals this season is to set a new single-season dig record.
Additionally, Bounds has the highest of hopes for the team this season. 
"Our goal for the season is to win states. We are a team full of great athletes and players and the only people that can stand in our way are ourselves," she said. "Coach Clarke sees this attitude in Bounds' play, noting that "she is doing everything she can to take us back to states."
In a little less than a year, Bounds will be heading to San Luis Obispo to compete for the Cal Poly Mustangs. However, before she made the commitment to Cal Poly, she had a summer full of recruitment.
"The recruiting period opens for players on June 15 in the summer going into their junior year. At that point, coaches can reach out and begin building relationships with recruits. After what felt like 100 phone calls, zoom calls, film debriefs, and meetings with different schools, I committed to Cal Poly," Bounds recalls. The short time frame of the recruitment process still shocks Bounds when she looks back on it. She notes that she merely had 3 months to decide where she wanted to spend the next 4 years.
There were multiple reasons that Bounds decided to commit to Cal Poly. For obvious reasons, the beach volleyball aspect itself was a large part of the decision to go to Cal Poly. Bounds wanted the opportunity to compete for a national title. Cal Poly entered last year's NCAA tournament as the seven seed, so they certainly have the ability to compete at the highest level. Furthermore, they are coached by Todd Rogers. Rogers won a gold medal in the 2008 Olympics in beach volleyball. Bounds believes that he's the perfect coach for her.
"As an athlete relatively new to the game, I knew that I needed a coach that would be able to develop me and shape me into the player I want to be," Bounds said.
Beyond the sports aspect, Cal Poly was exactly where Bounds wanted to be. She loves the location in the mountains and is just 15 minutes away from the beach. Additionally, the campus and education are great perks.
While Bounds is a senior transfer to the school, her impact on the school will be felt in her lone year at Benjamin.
"Addie has been able to seamlessly integrate into Benjamin, making friends quickly with her happy and easy-going demeanor," her advisor and Academic Dean Mrs. Caroline Guzman said. "She is a welcome addition to our advisory and the Benjamin Upper School Community."