An OK Time "Will be Found" at New Musical Adaptation
Movie Review: Dear Evan Hansen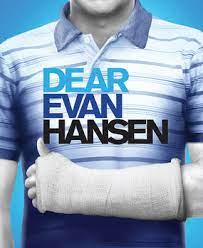 5 years after Dear Evan Hansen made its wildly popular Broadway debut in 2016, Stephen Chbosky directed the cinematic adaptation of the musical, released on Sept. 24.
The movie, starring original cast member Ben Platt, included many of the songs from the original musical including "Waving through a Window" and "Sincerely Me" which hit Spotify's top 50 charts soon after the release of the movie.
Dear Evan Hansen is about Evan Hansen, an anxious high school senior, and his relationships with the family of a classmate who committed suicide. The movie follows a series of emails from Hansen and other students' efforts to better the community after the passing of Connor Murphy. 
It can be difficult to turn a play, especially a musical, into a film, but for Dear Evan Hansen the transition appeared seamless. A few songs were removed for length but the movie did a good job of keeping the majority of the plot intact.
Senior Amelia Porges who saw the movie and the play while it was on Broadway thought the film was enjoyable.
"I really liked [Dear Evan Hansen] when I saw the musical, and I liked the movie as well; however, there were definitely a lot of aspects that were different. I thought some of the musical scenes felt a bit awkward, but overall, I feel like it portrayed its overall message of de-stigmatizing mental health really well," she said.
Critics disagreed with Porges, as the movie received a mere 30% fresh score on Rotten Tomatoes. They say that it was awkward for new watchers who didn't already have a love for the storyline from the musical and that the casting didn't really seem to pair well with the original cast of the Broadway musical. 
Top critic Kaitlyn Booth who rated the film a 4/10 said, "Dear Evan Hansen might be beloved to specific segments of the theater-going public, and perhaps they will enjoy this adaptation, but standing on its own, it's an awkward mess that comes out extremely emotionally manipulative."
I had never seen the show but looked forward to seeing the movie, and I actually thought it had a powerful message and was well done. Mental health is a struggle among high school students, and I thought the film did a good job of balancing the reality of it but also portraying it in a somewhat optimistic light. 
I would agree that the casting was a bit off. It's usual for high school students in movies to look older than normal high school students, but Ben Platt, now 28, and Colton Ryan, 26, seemed out of place compared to the other cast members who were closer to 22 and 24. 
Whether or not it was a good portrayal of the musical or not, the Dear Evan Hansen movie had a good storyline with catchy songs that did a good job of raising awareness for teen mental health in a way that wasn't too depressing. 
3.5/5 arm casts