Lucky Number 13: National Honor Society Welcomes Members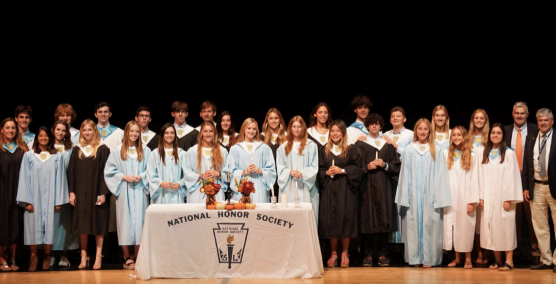 The National Honor Society (NHS) is a nationwide organization that recognizes the achievements of hardworking and dedicated high school students. Students are selected based upon four values: scholarship, leadership, service, and character. On Thursday, Oct. 7, eight members of the Class of 2022 were inducted into the Benjamin School's chapter of the organization.
Admission into the NHS is not an easy feat. Only students in grades 10 through 12 students with GPAs above 3.8 are invited to apply. A faculty council evaluates applications, and each selected student is inducted into the chapter based on one of the values that they exemplify.
The NHS website says, "Through exclusive resources, programs, andservices, members have a unique opportunity to prepare for college and career pursuits. Membership truly lays the groundwork for lifelong success."
Students must represent honesty, reliability, good character, courtesy, concern and respect for others to be inducted under the value of character in addition to keeping a clean disciplinary record. To be inducted under service, voluntary contributions made to the school or community must be made. Students need a GPA of 3.8 or higher to even be considered for the educational aspects of the society. For the leadership pillar, students must show that they are resourceful, good problem solvers, and idea contributors. These qualities can be observed from school or community activities while working with or for others.
Senior Sophia Smith completed all of the requirements needed to apply to the NHS.
"You have to write out the classes like honors and APs you take and write an essay about the pillars or something important about you. You have to go through an interview process and supply them with volunteer hours as well as a resume. On my resume, I said that I was a certified lifeguard and Red Cross certified. For those, I had to supply those certificates. It's an official process to the point where they were counting out all the hours," said Smith.
For Sophia Smith, being inducted into the National Honor Society under service meant more than just an achievement put on an academic record. It meant bringing out the best in her, and in others.
"I was inducted under the pillar of service because that's something that is really important to me. It's pretty special to me because of what the pillars stand for. I think that it represents morality, goodness, and it's about being the better person that you are. Being inducted into a society that pushes you to do that is really special and encourages you to work on yourself and be a better person. It helps me by giving me a sense of confidence knowing that the work I put into my life, volunteering, school, sports, and things like that can get recognition," said Smith.
At the beginning of the induction ceremony, chapter advisor Ms. Sara Misselhorn shared some of the group's latest accomplishments: "We have sent over 800 cards to troops abroad. We've dedicated over a thousand hours to Congressional medal programs…[six members] will be studying for over 100 hours for their AP Euro exam in May and… we have dedicated over 100 hours to clean up our adopted beach of Coral Cove Park."
Speaking on behalf of the chapter at the induction, NHS President Jake Zur praised the group's adaptability and perseverance during our on going pandemic. In doing so, he also welcomed five transfer members. The students were among many scholars
who joined our community over the last year. Abby Swank, Andie Smith, Addi Bounds, Alexandra Barkauskas and Brooke Queen bring their dedication to service and scholarship to the chapter.
NHS Out-of-School Service Coordinator Danielle Lancaster inducted seniors Lily Valentini and Christian Tipa for their exemplification of the NHS pillar of character. Chapter Secretary Emeline Smith spoke of the leadership qualities found in Dylan Bernstein and Ella Hayes. Treasurer Joey Slyh, meanwhile, spoke of scholarship while inducting Mac Pulitzer and Teresa Tuong. In-School Service Coordinator Sophia Liporace highlighted the ways Eliza Merkel and Sophia Smith dedicate themselves to the pillar of service.
The National Honor Society is a major accomplishment. All Benjamin students who were inducted into the society are congratulated by friends and faculty on an achievement that they worked so hard to reach.