Things Just Got Real: Maid Tackles Real-World Problems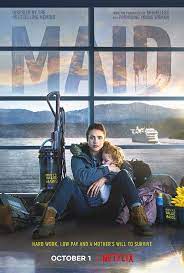 The 2021 Netflix show Maid focuses on the domestic abuse of the main character, Alex, who is played by Margaret Qualley, by her highschool love. 
The short series is inspired by the New York Times bestselling memoir Maid: Hard Work, Low Pay, and a Mother's Will to Survive by Stephanie Land.
After having a child, Alex decides to leave her abusive relationship along with her daughter. 
As she struggles to find a job as a maid for various people and find a safe place to live with her daughter, she must also deal with her lunatic mother, Paula, played by Qualley's actual mother Andie MacDowell. 
Alex goes through the ups and downs of living with her highschool sweetheart: she has so much love for him because he is the father of their child, but, on the other hand, she does not feel safe. To this end, she is constantly trying to do what is right for her and her daughter's future. 
The binge-worthy show, which has a total of ten episodes, really attracted my attention. At first I read 'fleeing an abusive relationship' which I thought would be a scary and violent series but as I watched the first episode with my stepmom, I soon realized that the show is not just that but builds Alex's character and strengthens her. 
The short series shows the obstacles that Alex has to go through in order to live a safe life. She becomes homeless, living in domestic violence shelters, in and out of her abusive father's home, living in a beaten down RV with her mother and her boyfriend. MAID shows the reality of domestic abuse and covers the lowest parts of being alone and sheltered, for Alex, it is sleeping on the train station floor with her daughter Maddy and a Dysoon vacuum cleaner. 
Ironically, as Alex has to deal with her crazy mother, she is living in similar conditions as her mother did when she was younger with Alex's father. Maybe that is why Paula has erratic feelings about different things, to protect her daughter. 
The show focuses on the difficulties and challenges it is to leave a relationship and how reliable you are on the abuser when in that relationship.
Domestic violence occurs everyday around the world. According to National Coalition Against Domestic Violence, 1 in 4 women and 1 in 9 men encounter a type of domestic violence with their partner in life. 
In her review of the show, Senior Contributor to Forbes magazine Dana Feldman wrote, "This riveting, powerful and emotional series is one of my absolute favorites of the year. It's at times hard to watch because you know Alex represents so many who are currently in the same dire situation."
Senior Danielle Lancaster binge-watched the show in four days because of how much it interested her. "I thought the show was really good because of the fact that it was about something that is a real issue. I think a lot of times shows are about things that are not that significant, and sometimes it's important to gain a real world perspective through a show," she told The Pharcyde.
Leave a Comment
About the Contributor
Clara Schor, Social Media Director
Hi I am Clara Schor. I have been on the Pharcyde since Freshman Year. I like to write about features on people. I like my friends. I like the Pharcyde....