Spreading Kindness: Sophomore Class Partakes in Community Service Project
Following the annual PSAT on Oct. 13, the sophomore class went to the Education Foundation of Palm Beach County's (EFPBC) Red Apple Supplies warehouse to participate in a community service project.
The EFPBC partners with the Palm Beach County School District to provide supplies to schools, which are mostly Title I schools, that have a large percentage of students who are underprivileged.
The sophomores helped the EFPBC in a variety of ways, according to Sophomore Grade Chair Coach Alex Clarke.
"Some of the kids spent the day filling teacher orders, so they spent the day shopping and pulled binders, notebooks, pencils, crayons, and more off the shelves. Some kids packed boxes for schools, so they packed notepads, pencils, erasers, thermometers, all kinds of things to use," she said.
Coach Clarke was the catalyst for the sophomore class' activity, as she connected with a former Benjamin teacher who works at the EFPBC. Unlike the freshman and juniors, who remained on campus following their tests for their own respective grade-level activities, the sophomores ventured off campus to Riviera Beach.
"We have a former teacher from The Benjamin School that now works for the Education Foundation of Palm Beach County, and she and I have talked for a couple of years, trying to figure something out. Originally, I wanted to take my volleyball team down there to participate. This year, when we were allowed to go off campus, I contacted her and reached out, and she made it happen for us," Coach Clarke explained.
Coach Clarke believes that the project was a success. As she explains, the sophomores who were packing boxes worked through the supplies quickly, so more supplies were brought out to be worked with.
Sophomore Savannah Maynard, who was one of the students who went shopping, found the community service project to be enjoyable.
"The community service project was a lot of fun. We were able to help people and pick a task that we would like to do," she said.
The ability to help the community while also being able to socialize with friends built for a "fun" experience for some, like sophomore Luke Duffy, who organized post-its and hand sanitizer for local schools.
Along with aiding the community, students were able to learn from this experience, as it opened the eyes of some students who noticed how fortunate they are.
"I noticed the things we take for granted are sometimes things some people are really in need of," Duffy said.
Maynard also learned from the project. She realized that there are more teachers who are unable to get supplies for their students in Palm Beach County than she had previously believed.
The sophomore class was granted the ability to help out the local community, especially those who could use the assistance. While they were able to help the school district, they also were provided with life-long lessons that could not have happened without Coach Clarke's extensive efforts to enable Benjamin students to help at Red Apple Supplies.
Leave a Comment
About the Contributor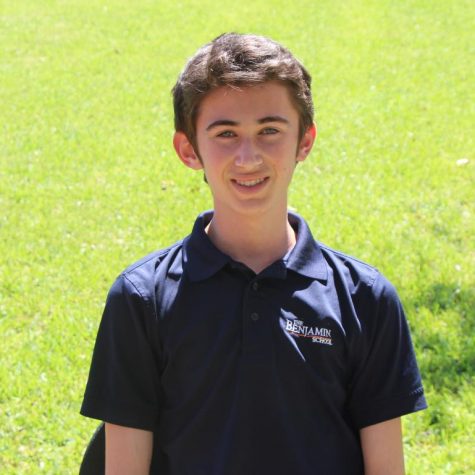 Charlie Spungin, Editor-in-Chief
Charlie Spungin is a senior and has been a member of The Pharcyde for four years. He is the Editor-in-Chief and formerly the Copy and Sports Editor....