Which are the Best Lunches?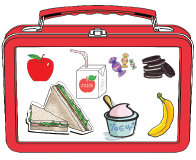 The Benjamin School offers a variety of options for students to purchase for lunch. The options include Jersey Mikes, CR Chicks, Sal's Pizza, Chick fil A, and Publix Subs. However, bringing a lunch from home is the best option. 
While what the school offers is popular among some students, others choose to pack their own lunches. There are several factors that make packing a lunch from home more desirable, including that the options the school offers are served in small portions. For those with sports practices after school that are constantly active, the serving size given may not be enough nutrition to keep students energized throughout the day. With bringing lunch from home, students are able to customize their portions to what they need.
It is also the healthiest option. Students can pack home cooked meals that they prepared previously to school. There are an innumerable amount of healthy recipes that can be included in student's lunches. Things such as salads and sandwiches are easy to pack. As another alternative, pack items purchased from grocery stores or elsewhere. Snacks can be included as well for during breaks or after school. 
With packing lunch at home, it is also possible to customize the meal or snacks to the student's liking. When ordering lunch there is a limited amount of options available, and students are able to specify whether they would like items they would like with their meal to a limited extent. 
Another positive aspect to bringing lunch from home is the cost may be lower than what the school supplies. This is not always the case, but is applicable to many situations. There are many possibilities to save money because students are able to choose what price for food is right for them by picking out their food. 
Bringing lunch from home is the best option for students. Students should bring lunch from home everyday because it provides healthier food options, better prices, and it gives the ability for students to put their own food liking into their lunch box.