The Upper School's Athletic Hall of Fame Inducts Third Class
The induction of the third class to The Benjamin School's Athletic Hall of Fame took place at halftime of the Oct. 22 varsity football game against Calvary Christian.
The prior two classes were the Class of 2013 and the Class of 2015. Athletic Director Mr. Ryan Smith noted that these two classes were the real foundations of athletics at Benjamin, as they helped build the program. This year's class was inducted as the Class of 2020. The induction ceremony was set to take place last year, but due to the COVID-19 pandemic, it was delayed until this year.
Mr. Smith recognizes the importance of the Athletic Hall of Fame, as it honors those who have made a difference in the school's athletic history.
"The Hall of Fame is to recognize coaches, contributors, and student-athletes who have made a significant impact, athletically, at The Benjamin School either during their playing career, their coaching career, or, in some cases like Mr. and Mrs. Benjamin and Mr. and Mrs. Nicklaus, as contributors to the school and the success of the athletic program," he explained.
The ceremony took place at halftime of the game, following the precedent set by the first two classes. Mr. Smith explains that this is the most convenient time to have the ceremony.
"Football games are the largest events we'll have on campus," he said. "[The ceremony] actually fits in with the halftime. We're able to have an active crowd there with people there to support."
The Class of 2020 had six inductees, who were all accompanied by family. The inductees were as follows: Chris Cocotos '90, Dave Parks, Dick Cavanah, Bob Hohnadel, Erlana Larkins '04, and Barrett Saunders '03. However, before any of them were officially inducted into the Hall of Fame, the school honored Alex Vogelsong '19 for his jersey retirement.
Vogelsong had his jersey retired last year for his golf career at Benjamin. He was not formally recognized for this accomplishment at any point last year due to COVID-19. He was unable to attend the ceremony, but his parents accepted the honor for him. At Benjamin, Vogelson set various boys' golf records and won Player of the Year for the Palm Beach Post and Sun Sentinel. He is currently a junior at Auburn University.
Cocotos was unable to attend the ceremony but was still honored. Cocotos was a tennis player at The Benjamin School who was the top recruit in the nation during his senior year. He continued his career at Stanford University, where he won an NCAA Doubles Title. After college, he would play professionally on the ATP Tour.
Parks began his coaching career at Benjamin in 1988 as the Special Teams Coordinator of the varsity football team. Along with holding that position for 28 years, he made an impact on the baseball program, where he was an assistant varsity coach, the varsity head coach, and the junior varsity head coach. He still makes an impact on Benjamin today, as he helps coordinate transportation for sports teams, handle athletic equipment, and more. 
Cavanah has been coaching swimming at Benjamin for nearly 40 years. He has seen many All-American swimmers earn All-American honors and has guided Benjamin to state championships. He coached Ryan Berube '92 and accompanied him to the Olympics, where he would ultimately set a world record en route to a gold medal. 
Hohnadel has made a profound impact on Benjamin's cross country and track teams. Hohnadel began coaching at Benjamin in 1990. Since his arrival at Benjamin, he has guided Benjamin cross country and track teams to a combined 39 district titles – 15 in cross country and 24 in track.
Larkins began playing on the girls' varsity basketball team in middle school. In 7th grade, she won her first state championship. She would continue on to win three more state championships, be named Ms. Basketball twice, and become a McDonald's All-American. She continued her basketball career at the University of North Carolina, Chapel Hill, where she made two Final Four appearances. After four years there, she was drafted to the WNBA in 2008, where she would win a championship with the Indiana Fever in 2012.
Saunders played football and ran track during his time at Benjamin. He set numerous school records, was a state champion in the triple jump and long jump, and was an All-American. He ran track at the University of Kansas, where he was an All-American once more and became a Big 12 Champion. He is currently the boys' track coach.
Everybody who was honored on Oct. 22 made their presence felt at The Benjamin School through athletics. Expect a new class inducted into the Hall of Fame in two or three years, as Mr. Smith expects a new class every few years from this point forward.
Leave a Comment
About the Contributor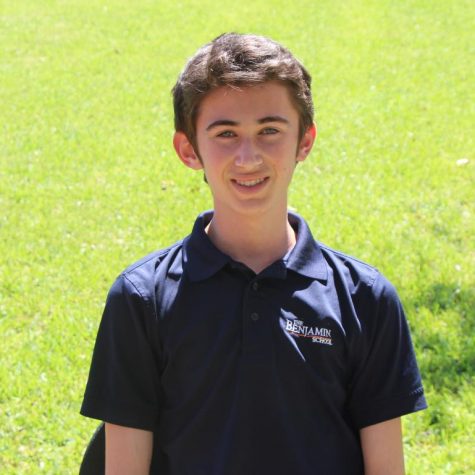 Charlie Spungin, Editor-in-Chief
Charlie Spungin is a senior and has been a member of The Pharcyde for four years. He is the Editor-in-Chief and formerly the Copy and Sports Editor....