Basketball Teams Post-Up for Success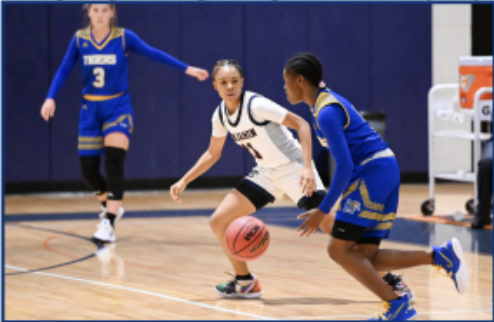 Coming off a disappointing year with an 8-14 record, the boys' varsity basketball team is looking to turn things around and compete for a district win as they lost in the first round of districts last year. This first comes with high expectations that they can do better than a measly .360 win percentage from last year.
Head Coach Brandon Arnette believes the team has much improved from last year as they returned players such as 6'10 junior center Gavin Aydelotte, who is one of the most proficient scorers on the team.
The team is also returning some other main scorers such as senior Mark Cueto, senior Carter Smith, and junior Darnell Sweeting. Smith, believes that the team will be able to achieve their goal of winning the district championship because of how much effort they have put into building chemistry and getting better overall during the offseason.
"My expectations are pretty high based on the fact that we did not lose many key players from last year and that we had some important auditions. I think we had a bad last year because we did not have strong chemistry with each other. We have worked on our chemistry by practicing over the summer, and some of us have played travel together all spring and summer. I believe that we can achieve our goal of getting to districts by continually practicing as hard as we can," said Smith.
The team has had many new players, but they believe their most important addition is their new assistant coach who is focusing on improving the defense. Aydelotte believes that coaching is one of the most important aspects of the sport, and the Benjamin coaches continue to improve the basketball program overall.
"Coaching is a huge part of the sport, and with our new defensive coach, David First, I believe we will be a very competitive team this year," he said.
On the other side of the court, the girls' varsity basketball team is looking for another dominant year after finishing last year with a 10-7 record where they ended up losing in the regional finals.
The team has set their sights high looking to repeat last year's success by winning district finals again. They believe they will do this by continuing to practice hard and play for their teammates rather than playing for themselves.
"The reason why we have been successful for the last few years and why we will continue to be successful this year is because of how hard we work during practice and on our own. Everyone comes to practice focused and ready to work hard, which carries out through what we all do individually at home. We also take time to bond with one another which creates better relationships for when we play and makes it more enjoyable when it gets tough," said senior Jasmine Patrick.
Along with good coaching, the team believes having fun is also a key to success, and they believe that if they were to see an increase in attendance in the student section it would motivate them to play even harder.
"The student section pumps us up and motivates us during the game. The cheering makes the game much more fun and brings overall positive energy to the gym" said sophomore Nandini Patel.
Both the girls' and boys' basketball teams are hoping for successful seasons with their sights set on bringing home the district championship.