In Memoriam: Madeleine Albright, 1937-2022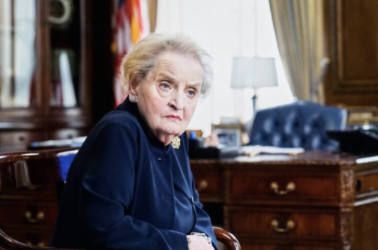 Madeleine Albright, the first female US secretary of state, passed away due to cancer on Wed. March 24. An influential part of the Clinton administration and a significant contributor of Western policy in the aftermath of the Cold War, Albright first served as an ambassador to the UN before becoming secretary of state in January of 1997. 
President Biden paid tribute to her on Wednesday night, saying that"Madeleine was always a force for goodness, grace, and decency – and for freedom." While in office, she most notably pushed for the expansion of NATO, sought to reduce the spread of nuclear weapons, and championed human rights and democracy across the globe. 
 English Department Chair Mrs. Sharon Wendler noted how she was deeply saddened by Albright's passing. 
"She's an American treasure especially from a woman's point of view, and as an AP Language teacher, I often read her speeches. She's just so bright and so smart and it's such a big loss; she had such charisma and a sense of humor," she said. 
An admirable female leader and figure of power, Albright will certainly be missed and remembered.