¿Hablan Español? Conferencia Team Competes at Annual Statewide Spanish Conference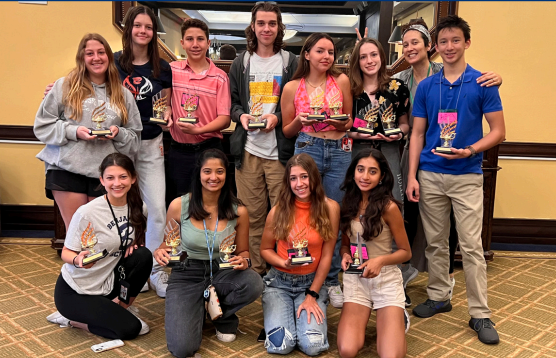 For the first time in two years, Conferencia is back in the state of Florida. This year, it will take place in Orlando from Thursday, March 10 to Saturday, March 12.
Sra. Maria Gonzalez-Lopez, the advisor for Conferencia from Benjamin, explains what Conferencia is and what exactly the students who attend it will be doing.
"Conferencia is short for Florida State Spanish Conference, and it is a state competition. It invites schools from all over Florida, and they bring up to 16 students to compete. There are two major divisions: One is called A and B, which is for kids that are non-native speakers. The other one is called C and D, which is for kids who are native or heritage speakers," said Sra. Gonzalez-Lopez.
Within Conferencia, there are various competitions for the students to compete in. 
"The students get to compete for two days in two different types of competitions. One is called Impromptu Speeches. In this, you have to improvise a speech for two minutes, but it's really not that improvised. You are given 16 topics to choose from and a few months to prepare for it. Then, during the actual competition, you are given three of the 16 topics randomly, and you choose whichever one of those three that you want to do. In the second competition, you have to either recite a declamation or be a part of a play," added Sra. Gonzalez Lopez.
Sra. Gonzalez Lopez also believes that attending Conferencia is a great experience for students, and it could also help during the National Honor Society application process.
"It is a great experience, and if students have to miss school for an important reason, this is one of those reasons. They travel to Orlando, and they are a part of an amazing opportunity where they get to see students from all over the state preparing for the same thing that they are. In terms of preparation, I think it's great to have kids work together, especially because they are students from different classes and different levels that may never work together otherwise. I hear it is a big point for NHS. They really look for commitment, and we train for about three months," noted Sra. Gonzalez-Lopez.
Sra. Gonzalez-Lopez also thinks that a majority of the students who attend Conferencia enjoy it rather than dislike it.
"Students like missing school. They get to go to Orlando and have fun. Believe it or not, after all that preparation, the competition itself takes a short amount of time out of the students' day, and the rest of the day they get to be with their friends and support them. In terms of academic perspective, kids who go to Conferencia tend to develop a stronger sense of security. They are able to look back and say 'Wow, it wasn't as bad as I thought, or look at everything that I was able to do,' so it can really push a kid out of their comfort zone and make them a better language learner," stated Sra. Gonzalez-Lopez.
When asked how she has enjoyed being a part of Conferencia, Gonzalez-Lopez notes how she likes the burden of having a leadership role and being able to connect with the students more.
"I was given Conferencia after the previous teacher was thinking of retiring, and I was handed this awesome responsibility, and I've been learning along the way. I like the fact that myself and Mrs. Gustafson get to support the kids and we are able to be the ones who offer them this opportunity. I do like to be in this leadership role though, because I've never had to do so much paperwork and chase after kids to turn in forms," said Sra. Gonzalez-Lopez.
Freshman Vanessa Zito, who is new this year to Conferencia, has enjoyed being a part of it this year and thinks that it is important for other students to join Conferencia if they are interested. 
"I have very much enjoyed being a part of Conferencia this year. I enjoy working with students from every grade level at our school and being able to create a cohesive system with the many different levels of fluency that we have. I think it is important for Benjamin students to attend Conferencia because of the experience in general and how we as a team can progress and advance our abilities in years to come. The diversity of students that will be attending will also be an interesting thing to engage in as well," said Zito.
Benjamin competed well at this year's Conferencia, with most of the student's Impromptu Speeches being graded very highly. The play they performed, on the other hand, did not get graded as well. With Benjamin sending many Spanish 2 students to Conferencia, they were viewed as a team that would not be that competitive. Ultimately, they were one of the best teams that showed up and it was a great learning experience for all of the students who attended.
Overall, Conferencia is a very enjoyable experience for all who are a part of it, and this new, young Benjamin team will be looking to compete at a high level for years to come.