Au Revoir, Orlando: Congrès Team Places Fourth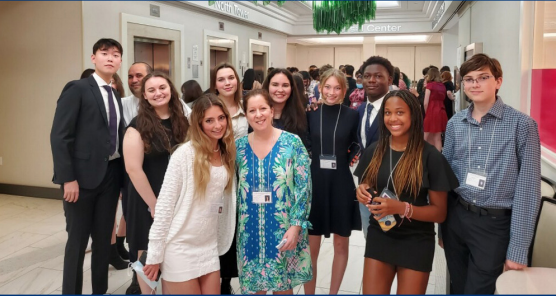 After a three year hiatus, the Congrès team traveled to Orlando from March 10 to March 12 in order to compete in the annual French competition and represent The Benjamin School, placing fourth in their division.  
Senior Grace Kearns, a returning veteran, explained that she began to participate in Congrès because her siblings participated in the event, thereby influencing her. "I did it because my siblings did it and it seemed like a lot of fun."
Also speaking about the reason behind her decision to participate in Congrès, another veteran, junior Izzy Molnar, said, "I did it because I thought it would be a fun experience and I would be able to enrich myself in French culture."
Sophomore Evelyn Peyovich, however, experienced her first time at Congrès, saying, "Congrès provides a place to learn and speak French in an environment where it's not just a class. You're not doing it for the grade, and therefore you can really get into the language without thinking about your GPA or anything."
Madame Beverly Gustafson, French teacher, usually accompanies the team to Orlando. This year however, she joined the Conferencia team. Despite this, she rallies for the Congrès experience, speaking about how the event helps students in multiple aspects of their lives. 
"It's a wonderful opportunity to use all the skills that they have been working on for so long. It brings them together as a group and instills confidence in them. It's also just a wonderful experience. And it again, helps them to see that all that they're doing and learning can be used in such hands-on realistic ways, I would highly recommend it. It's also great for preparing for college and university," Gustafson said. 
Congrès takes extensive preparation in order to excel the way that the Benjamin team does every year. It has various categories under which students compete including a  'lecture', a test, 'declamation', a poem recital, 'casse tête', which is trivia, 'projet', a project, 'album', a photo album, 'discours', an impromptu, and more. While Kearns and Molnar had to memorize and recite a poem, Peyovich was a part of the 'discours'. 
Kearns said, "It takes weeks if not months of preparation; reading and rereading the poem, going to teachers and making sure I've pronounced everything correctly, as well as making sure I bring the poem to life."
Similarly, Molnar prepared for three weeks practicing her pronunciations and memorizing the poem.
Peyovich spent her time understanding the language and becoming more fluent and familiar with French as she was unaware of the question she would be presented with the day of the competition.
These students have a soft spot for the language, it being one of the seven romance languages. Peyovich said, "French to me is the prettiest language out there. I tried Spanish and it did not click with me, but French just works with my brain in a way. It's incredibly beautiful." 
Congrès gives students a great opportunity to further enhance their love and knowledge of the French language and culture.