Testing, Bowling, Service, and Fun Help Mark Arrival of Spring
On Wednesday, April 6, each grade participated in a community service project designed to both benefit those around them and strengthen the bonds of their classes. This community service day occurs annually on the same day that the sophomore class sits for the PACT exam. 
The freshmen will start by participating in a workshop led by consultant Dr. Deeawn Roundtree who names the lesson, Let's Talk About Career Success.  
Dr. Roundtree is more than qualified to lead the workshop with her not only being the CEO of Roundtree Training and consulting but also a certified Leadership Coach, Trainer, and Speaker with the John Maxwell Team.
The workshop focused on the ability of students to be able to interact with all different types of people, their own leadership skills, what's important in a resume, and the skills needed to meet the expectations of an employer's interview.
After that, they will head to Bowlero in Jupiter to bond as a class over strikes and sodas.
Freshman Lulu Swank thought the experience was relaxing, as the second semester can oftentimes be stressful, and a good way to reinforce lasting friendships with her peers.
"This semester has felt very fast-paced and somewhat stressful, so being able to relax and just have a fun day with the whole freshman class was really enjoyable. I think all of us being together definitely created some bonding," said Swank. 
The sophomore class sat for the PACT before starting a similar workshop with Dr. Roundtree at noon.​​ Director of Student Services Dr. Amy Taylor, who set up the workshop, believed Dr. Roundtree was the perfect fit for the Benjamin School because of how successful her business has been and the experiences that she can bring to the table.
"We choose Dr. Roundtree because it is what she does for a living. She is a consultant for businesses, not necessarily schools, but I think it is important for our students to hear from someone who has done it at the business level," said Dr. Taylor.
The juniors received breakfast from Tropical Smoothie Cafe, provided by the School, before delving into a series of alumni talks in Benjamin Hall. After hearing from Chelsea Reed '88, Sara Misselhorn '90, Morgan Dillavou '01, and Talbot Sutter '07, they departed for Carlin Park where they spent two hours cleaning the beach.
Junior Class Chair and French and Spanish teacher Ms. Colleen Donnelly thought that this would be a beneficial activity to the students.
"We live in South Florida and most of us go to the beach regularly. It really is our responsibility to be mindful and do what we can to enhance marine conservation efforts. It is in pitching in to clean up debris and trash that we can make a difference in keeping beaches clean. By doing so, we become a part of the solution that helps to protect and preserve marine ecosystems," she added.
Finally, the seniors will partake in a debut activity entitled Springstival, where they will travel to the lower school campus to host a carnival filled with games and activities for the youngest members of the Benjamin community.
The activities range from sand art to face painting to soccer, and each senior will have the opportunity to spend time with lower school students.
Senior Danielle Lancaster really enjoyed the carnival and thought that it was an enjoyable experience to have towards the end of senior year.
"Once you leave the lower school campus, you rarely go back, so getting to spend the day there and see the kids and talk to the teachers was very bittersweet. Working the carnival with the whole grade was really fun, and I think it was an appropriate activity to end the year," she said.
All in all, it was a positive experience for each class and will certainly be a day they will never forget. Although the students were not able to have an entire day off from school, they still made good use of their time and helped the community along the way.
Leave a Comment
About the Contributor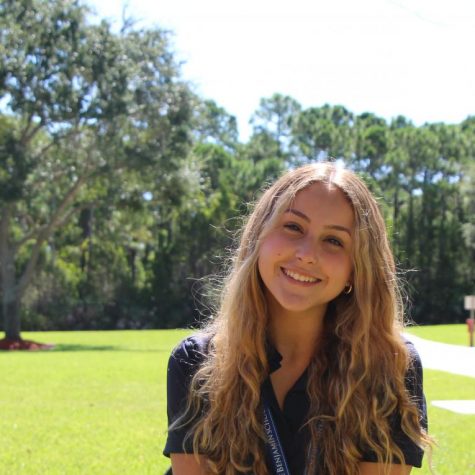 Sophia Liporace, Co-Editor-in-Chief
Sophia Liporace is a senior at Benjamin and the Co-Editor-in-Chief of The Pharcyde. This is her fourth year as a member of the team and her fourteenth...