Benjamin Faces Oxbridge for the First Time this Season
For the first time in The Benjamin School's baseball season of 2022, TBS faced Oxbridge Academy in a challenging game. Benjamin baseball team students stood on Jacobs Field moments prior to the game preparing for what would become a victory in only around two hours. 
Junior left fielder Rocco Gaeta became a crucial component of the game in only the first inning, when he drew a walk on his first at bat. According to Gaeta, practicing before a game is an element of his success. 
"I prepare for the game by stretching and trying to get myself in a relaxed and calm state of mind in order to do the best I can, and I warm up in the batting cages," said Gaeta. "Before [the game], I was a little nervous, as they were pitching a very good pitcher who recently committed to Texas Tech, one of the best D1 schools in the country. After scoring 2 in the first, I was relieved because I knew our pitching could shut them down."
Feelings leading up to the game serve a significant role, as they give confidence to players such as freshman Nick Banner and junior Freddy Beruvides.
"I felt confident going into the game and knew we were gonna scrap some runs off the pitcher," said Banner, who plays catcher for the team. 
The team was assured that once they had eliminated a specific Oxbridge player, the game would continue smoothly.
"Before the game, I was feeling confident knowing if we got Walsh out of the game early we could break it out," said Beruvides, who plays first base. "We had energy in our dugout and on the field the whole game."
However, Benjamin's win was built upon a mistake Oxbridge made that proved to determine their performance for the duration of the game.
"We made our plays and had minimal mistakes. They had an error that pretty much lost them the game," said Banner. 
Senior Jake Haggard hit a linedrive that bounced in front of the left fielder and went under Oxbridge's glove. The team's performance played off of this error.
"We won because we got a lead early in the game. We were the first to get a lead so we put the pressure on them early in the game," said freshman Jackson Miller, who plays centerfield.
Multiple players agreed that the pitching done by the team was a key factor in victory. Benjamin possessed both quality pitching and defense. Sophomore Ethan Pribramsky played a vital role, as he pitched a complete game with very few hits and walks. While Oxbridge's defense made several mistakes, Benjamin made limited errors with their defense, as well as hit the ball and got on base more. Two runs were scored in the first inning alone, both of which were capitalized on the aforementioned error made by Oxbridge. 
"We created opportunities and took advantage of it early and didn't give it up. Overall it was a great team win," concludes Beruvides. 
The dedication, commitment, and effort put into this year's boy's baseball season is commendable. This commitment resulted in a final score of zero for Oxbridge to two for the Bucs.
Leave a Comment
About the Contributor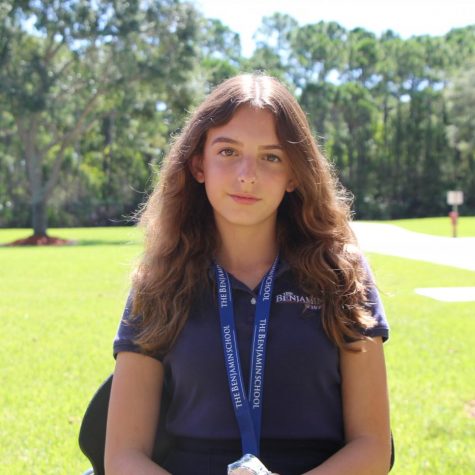 Leah Klein, Staff Writer
Leah Klein is a freshman at The Benjamin School. She has attended Benjamin since WOW. This is her first year on The Pharcyde team. She joined because she...