President Elect Aims to Increase Diversity, Spirit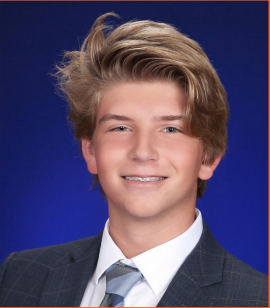 Hello Benjamin. My name is Owen Nutter, and I will be your serving Student Council president for next year. A role which I cannot wait to accept, I am so grateful to everyone who helped me get to this stage, and will make sure to give it my all in office. I have had such a great journey in Student Council, and I cannot even begin to express my gratitude to those who have made this journey possible.
Primarily, I would like to thank Sydney Steinger for being such a great leader to the Upper School and for being the benchmark for how I will conduct myself as President. Furthermore, I want to thank Mrs. Franzen and Mr. Hoy, they have been great advisors to the student council and have helped me develop into the person that I am today. All the great work that the Student Council has done up until this point will be the blocks which I will build from.
I would like to clarify why I wanted to run for president. I first joined the Student Council because I wanted to be a student leader that everyone looked up to, and that was enough to be on student council, however, as I have spent more time on Student Council, it has grown into more of a group of friends than just a club or leadership program. Having this confidence in my community about what to do as President is something that I completely owe to those on the Student Council now and have been in the past. Having looked up to these people for so long it is only natural that I want to be like them. So I would like to be as great as past presidents, but I also want to make my own impact on the school. So with that as backing, I have made my decisions about what I will do as president.
I cannot go into the complete inner workings of my plan because they are not there yet; however, one of my major goals as President is to incorporate everyone into school spirit. One thing that has always been on my mind is how it feels that not everyone wants to embrace the school spirit and the warmth of the school. So I plan to create more encompassing events and more importantly, I want to make events more common. So that way with diverse events and them happening more often, I want to get all kinds of students involved in the school spirit.
I can't wait for next year,
Your new President