Fresh Paint Freshmen, and Fresh Starts: Welcome Back
As the 2022-23 school year begins, the Upper School welcomes its largest student population in recent school history: 472 students.
New and returning students arrive on campus to find several new additions to the school — teachers, exterior paint colors, floors, activities, and more.
With 127 students, the freshman class is the largest, followed by the sophomores (119), the juniors (118), and seniors (109).
"Even though we have the smallest class size, I think the senior's class spirit in sports and throughout the day is one of the strongest in the school, and we are able to make closer relationships with our friends," senior Andrew Moffitt said.
While the student population is at a recent record high, Upper School administrations do not believe that issues with overcrowding will arise. In fact, the coming school year will only be slightly larger than the 2021-22 school year.
"We'll be about five or so higher than last year, so five kids among around 470 is not a huge number," Head of Upper School Mr. Fletcher Carr said. "It'll feel like a full school but beyond that, not too much different."
A major factor of the historically large freshman class is the renaissance of the Middle School. The number of students, 82, from the Middle School that are entering the freshman class is higher than previous years.
"We actually have fewer new students enrolled in our Upper School for 2022-23 than previous years due to fuller middle school grades feeding our Upper School," Associate Director of Enrollment Mr. Christopher Nordland said.
To help welcome new arrivals though, the school relies on the expertise and support of the Peer Advisor program. 
"The Peer Advisor program was started last year to help acclimate new students to the Upper School," said Science Department Chair Dr. Haley, who also serves as the Peer Advisor adviser. "While our advisors are very knowledgeable and eager to help, no one knows better the issues that freshmen face than the current upperclassmen. The PAs will be regularly attending advisory meetings to lead discussions, facilitate team building, and get to know the freshmen on a one-on-one basis."
Welcoming of new students occurred at Monday's new student orientation, which was organized and led by Upper School class deans, members of the student services office, and other administrators. 
Freshman Class Dean Mrs. Amanda Pierman made a scavenger hunt for students to complete with their advisories to get a sense of community. The goal, according to Mrs. Pierman, was to get the freshmen "ready to hit the ground running" to begin the school year."
"I created a scavenger hunt using Flipgrid and QR codes, and so [the students] went throughout campus, finding locations of where teachers were, where different subject areas are," she said. "They learn a little bit about the history of the school, learn about some of the school rules, and tradition. And then in the afternoon, they're going to meet with Mr. Jacobson and Benjamin Hall, followed by technology, to give them a little bit of a rundown."
And while the school has increased in size this year, further significant increases over the next few years are not expected. The increase in size from last year to this year is actually the lowest on a percentage basis in the past three years.
"Applications to Benjamin overall hit a record high, but we feel it is important to remain as selective as we can," Director of Enrollment Mrs. Amy Jablonski said. "Our acceptance rate dropped fairly significantly this season. We also feel that it is crucial to remain a small school where every student is known, is valued, and feels a sense of place." 
This year's acceptance rate was lower than the past five years at 45%, continuing a trend of decreasing acceptance rates over the last three years.
For the larger student population, Upper School class deans have been planning a re-orientation for each grade on Thurs., Aug. 18. To facilitate class bonding and spirit, students will be engaged in activities on and off campus. Whether bowling in Jupiter, bouncing at Urban Air, putting in Abacoa, or splashing down at the Rapids, a positive tone will be set for the upcoming year.
For more about what is new around campus, see page 2.
Leave a Comment
About the Contributor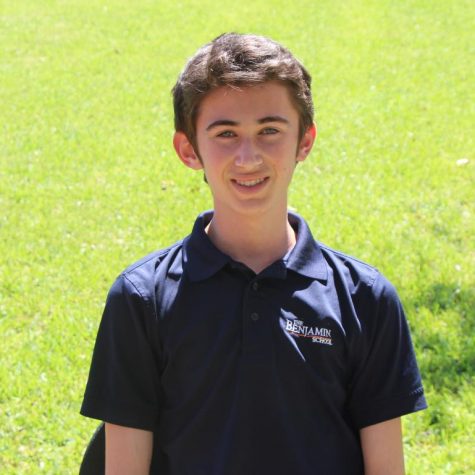 Charlie Spungin, Editor-in-Chief
Charlie Spungin is a senior and has been a member of The Pharcyde for four years. He is the Editor-in-Chief and formerly the Copy and Sports Editor....