Enforcement Over Enlargement: Dean of Students Promise Fewer New Rules, More Attention on Existing Policies as Pandemic Transitions into Endemic Phase
In news that will delight some and instill panic in others, the Upper School Dean of Students Mr. Kevin Jacobsen has announced that in lieu of a barrage of new policies and rules, the 2022-2023 school year will focus on more strictly enforcing existing protocols.
In light of the continued trend and horror of mass school shootings around the nation, a stricter ID policy will be enforced. Students will be required to wear their IDs at all times in a visible place.
"Having [your ID] in your pocket is not useful," Mr. Jacobsen said. "Having it in your wallet, it's not going to work. It's got to be on your person at all times. It's purely from a safety point of view so that our security guards, substitute teachers, and coaches, and everyone knows that people on campus are supposed to be on campus."
In addition, the existing dress code policy will be more uniformly enforced. Despite the recent surge in popularity, Crocs will no longer be allowed on campus. As Mr. Jacobsen explains, footwear must "have a back to them." This decision has also been made for the student body's safety, per Mr. Jacobsen.
"We had a couple of students get injured last year playing basketball in Crocs and slippers," he said. We just want to make sure students are wearing shoes that if you're running around or you slip on the stairwell, at least you have some kind of support there."
The Pharcyde has also recently observed that Crocs make an unusual squeaking sound in the new hallways during wet weather. Alternate footwear will lead to quieter indoor spaces.
In terms of further dress code policy, there are no changes. Boys are still expected to wear khaki or blue shorts with a belt, and girls can wear a skirt, skort, and shorts, all of which must be of an appropriate length. Sweatpants will not be permitted to be worn until the weather cools down, and the administration will alert the student body when that time comes.
Additionally, students are expected to be punctual at all times. While this seems obvious, Mr. Jacobsen found himself handing out detentions for tardiness to students this past year. However, exceptions do exist.
"Without a valid excuse, students may receive detention," Mr. Jacobsen said. "It depends on the day. There were times last year where there were major delays because of bridges or trains or accidents, where they were forgiven for that. If a student's late one time in two months, probably won't receive detention. It's a consistency thing and figuring out which students are consistently late."
Part of why students are disciplined for being consistently late is so that students learn time management skills.
"As you go forward to college and get a job, that's just not something that's tolerated outside of school," Mr. Jacobsen said. "That's part of what our job is, to teach our students."
Additionally, lunch will not be served on the first week of school. From the second week and beyond, it will be served at the gym concession stand. The administration, in addition, is making it clear that "students shouldn't be in the hallway [during lunch], and students should ask permission to use classrooms", according to Mr. Jacobsen.
As the school year commences again, the administration expects students to adhere to these policies and others. These policies, along with others, can be found in the Student and Parent Handbook.
"The message is clear from the school," Mr. Jacobsen said. "It's time to get back into kind of what a regular independent, high-end prep school looks like."
Leave a Comment
About the Writer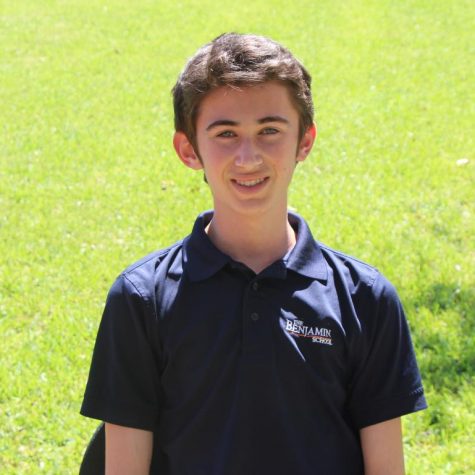 Charlie Spungin, Editor-in-Chief
Charlie Spungin is a senior and has been a member of The Pharcyde for four years. He is the Editor-in-Chief and formerly the Copy and Sports Editor....