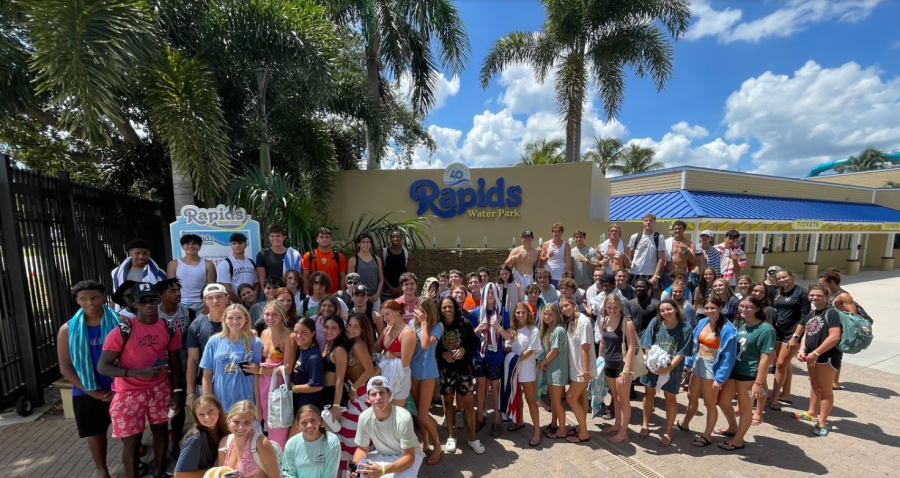 Re-Orientation Recap: Seniors Splash Into Their Final Year
Since the pandemic hit, there were no fun school trips. This year, the seniors took on Rapids Water Park in West Palm Beach as their "re-orientation" day. The seniors are in for a ride because Rapids Water Park is known to be the biggest waterpark in South Florida. This fun trip allowed seniors to bond amid the excitement of slides, rivers, and waves.
Something unique about the seniors experienced at Rapids is that only half of the water slides were open. Even though they had limited fun, they had amounts of excitement throughout the day.
Starting off the day, students boarded the bus at 9:40  and took off to Rapids, and got their day started. The dress code was that the seniors could wear anything that was school appropriate. When they arrived, the students started the fun with the water rides.
Senior Owen Nutter had enjoyed his time at the Rapids on Big Thunder since the constant movement of the slide made it enjoyable.
"My favorite water slide was Big Thunder," Nutter said, "It was fast and most of the time I was going backward so it was exciting."
When all of the fun in the morning continued, students looked forward to lunch on a hot day. English teacher John Peruggia says the students enjoyed the lunch.
"For lunch, there were hot dogs, hamburgers, caesar salad, cookies, and drinks. Most of the kids enjoyed what was given," said Peruggia.
After lunch, the seniors continued to have amounts of fun on the many slides. Sophie Marx loved going on Black Thunder since the chaotic events through the slides made it exciting.
"My favorite slide was Black Thunder because it was scary and fun," Marx said, "I went down with my friends and our tube flipped over."
As an advisor, math teacher Laura Priola thinks that students enjoyed being out of school and have the freedom to do anything they look to do at the water park.
"The trip was absolutely fun. Everybody could do what they want," Mrs. Priola said, "Students and teachers just chilled out and enjoyed the day."
At the end of the day, seniors came back on the bus and returned to school at 2:30. Students really enjoyed this trip, but senior Nate Samarias saw how this was the best trip possible and how well planned this trip was.
"I feel like this trip was the best trip possible because it was definitely well organized and well thought out," said Samarias.
English teacher Sharon Wendler thought the seniors bonded with each other for the last time and enjoyed the day.
"This trip was a great team-building activity," Mrs. Wendler said, "It was great to see the seniors get together as a class and enjoy the company of each other and their advisors."