Scots Serve Bucs Early Season Defeat
Despite its coming off an impressive season, the Varsity Volleyball team was unexpectedly swept 3-0 by St. Andrews in the second week of the season.
"I did not think there was any chance of the team getting swept, but I believe this game will force us to become closer and build up our passion and energy to win," said varsity captain and junior Grace Havlicek.
Both the JV and Varsity teams hosted the Scots on Tuesday night at the Upper School's Healey Gymnasium. The JV squad came out strong, winning three sets to two, but the Varsity team could not continue the momentum, falling in straight sets. Both teams had bright spots but also realized that they have areas for improvement.
During their match, Varsity players were riddled with mistakes they usually would not be making, such as routine hits that ended up going into the net. Although this game was a setback, Varsity volleyball head coach Mrs. Alexandria Clarke believes the team is better than what they showed.
"We are not worried, we know we are a better team than we have shown the last two weeks and we have dropped a couple of matches that we should've won. We spent a lot of time last after the game talking about what we did well and what we could improve on," said Coach Clarke.
The team believes some of its problems stem from playing as if a win is expected, so this game acted as a wake-up call to get back on the court and work on correcting their mistakes.
"As a team, we need to work on working more as a team instead of individuals, we are all great players and we just need to work on how to make all our strengths one. I think this game will make us more motivated to work harder," said senior Kori Haggard.
Even though the team did not live up to expectations, the student section dressed up in a red, white, and blue theme still displayed how they can affect the game as their chants disrupted St. Andrews' serves on several occasions.
"I always come to the volleyball games as best dressed as I can. I believe this can set a tone for both teams. We try our best to chant during serves, as we think it messes up their routine and gets the other team distracted," said senior Gavin Aydelotte.
Before the varsity game, the JV team kept its 4-game win streak going, as they finished off the last set strong 15-11 to secure the victory. Alike with the varsity team, the junior varsity team also did well in some areas, but also have parts of their game that they could improve on.
"I think we did well communicating during our game as well as keeping our spirits up, but we need to work on keeping our spirits up when the other team gets a lead," said freshman Lila Brodner.
Both teams showed Benjamin that this season is going to be fun and exciting to watch as they get better and better.
Leave a Comment
About the Contributor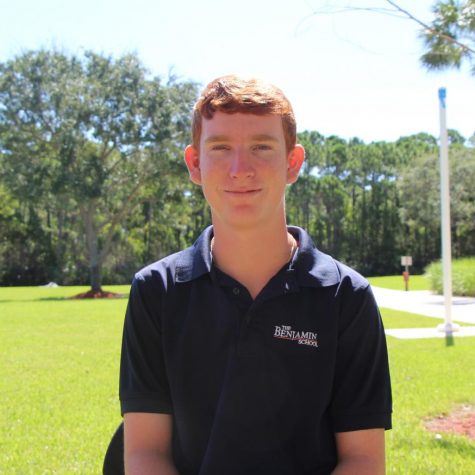 Matt Marasco, Sports Editor
Matthew Marasco, a staff writer for The Pharcyde. Now in his second year of The Pharcyde as a sophomore has attended Benjamin since Kindergarten. He likes...