Silence Before The Storm
Benjamin JV Golf Takes on the Lions of Kings Academy
The Benjamin boys junior varsity golf team was winning their match before it got postponed against The King's Academy Lions on Sept. 8, 2022. The final score within the teams was unknown due to a stoppage in the match because of lightning, but it was determined by players that Benjamin was winning.
The team is coached by Mr. Ronald Kane, who discusses the skill of his players and his goals for the match.
"We have a very balanced team with many players that can lead the scoring on different days. We go ten deep, and our goals are to focus on our score and not the opponents. We try to not look too far ahead and to play in the moment."
Star freshman golfer Maurice Hoben, who shot a 15 (-1) through four holes, played very well in his match against the Lions until he was told to exit the golf course.
"I [was] feeling confident about the match and I was aiming for par and since the match was stopped I finished better than that," mentions Hoben.
Sophomore Caden Hayes, who had a bumpy start, finished at 17 strokes (+4) through only three holes, not able to complete the others due to the lightning stoppage.
"My goal was to shoot under 40 and work with Reid [Waxman] and win the match as a team." says Hayes.
The top players of the match were Maurice Hoben at (-1) through four holes and Cameron Feiner at (E) through five holes. 
Reid Waxman and Nick Cechinni both were at (+1) when the match was stopped. Reid was through three holes and Nick was through five holes. James Marshall finished at (+2) through four.
The match against Kings may be finished another day and time. The time and day are to be determined at the moment.
The JV golf team may have not been able to finish the match against Kings, but they were able to pull off a win on Tuesday, Sep. 6 when they played North Broward Prep. 
Leave a Comment
About the Contributor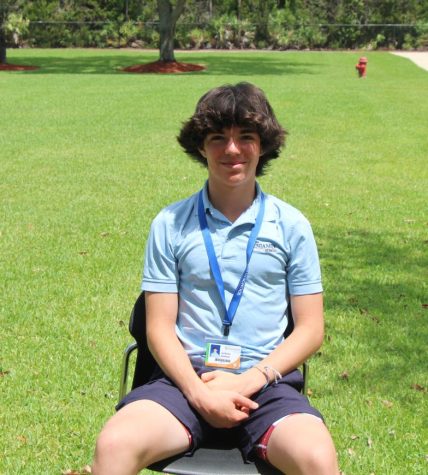 Jackson Zentner, Staff Writer
Jackson Zentner is a freshman and staff writer of The Pharcyde. He has been going to the Benjamin School since kindergarten. He enjoys sports and writing...