Lending a Helping Hand: Benjamin Launches Supplies Drive to Help Those Impacted by Hurricane Ian
Nearing the end of September, it was looking like the 2022 Atlantic Hurricane Season was going to be a quiet one, a rare occurrence as of late. Then, on the morning of Sept. 23rd, Tropical Depression Nine formed. Which would go on to develop into the infamous Hurricane Ian.
After making landfall in Western Cuba in the morning of September 28th, Ian strengthened into a high-end category four hurricane with maximum-sustained winds of 155 miles per hour. Then, at 3:05 p.m., Ian made landfall near Cayo Costa, FL.
According to PowerOutage.us, the storm knocked out power for more than four million customers in Florida. According to research firm CoreLogic, 87 deaths have been reported in Florida and the Carolinas and recovery costs are estimated to be around $47 billion in insured losses.
"A record number of homes and properties were lost due to hurricane Ian's intense and destructive characteristics," said Tom Larsen, associate vice president of the Hazard and Risk Management unit at CoreLogic.
"Hurricane Ian will forever change the real estate industry and city (Fort Myers) infrastructure. Insurers will go into bankruptcy, homeowners will be forced into delinquency and insurance will become less accessible in regions like Florida," added Larsen.
Many regions of the sunshine state, especially the southwest coast, were decimated by the impacts of Hurricane Ian. In response to this tragedy, the School is partnering with Feed South Florida, a local non-profit organization that has a strong record, historically, of efficient food distribution and hunger support in our region.
The drive started on Tues., Oct. 11th and will last until Fri., Oct. 21st. The drop-off location at the Upper School is in the back of the DLC. The list of items needed includes food, pet food, cleaning supplies, drinks, toiletries, and cardboard boxes. All items will go to the southwest coast of Florida.
When asked about why he donated supplies, Junior Andrew Lappin cited his empathy towards those in need.
"So many people were affected by this horrible natural disaster. The least I can do is give supplies to help these people during this tough time," explained Lappin.
Junior Michael Louis also donated supplies to help the people on the west coast of Florida.
"I saw the damage that was caused by the storm and wanted to help in any way I could. We are very fortunate to not have been struck by the storm as badly as they were. Everybody should take advantage of this opportunity to help those in need," said Louis. 
It remains important that we do all that we can to help those who were affected by the storm, even past the end of the Benjamin supplies drive.
Leave a Comment
About the Contributor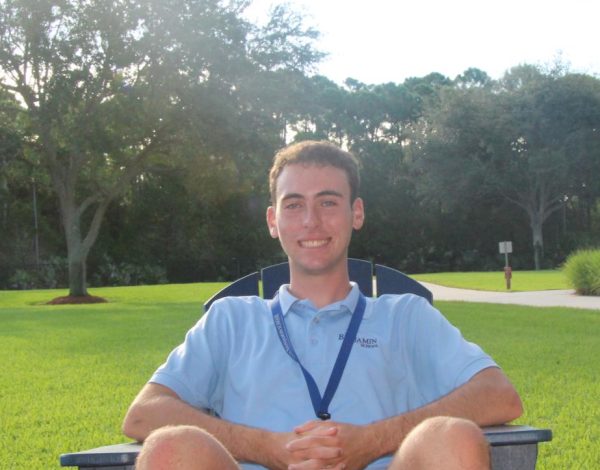 Joey Tomassetti, Senior Editor
Joey is a senior and is going into his third year on the Pharcyde. He is a member of the Editorial Board of the paper. He is a member of three varsity...