Tuesday: Hawaiians vs. Bikers
Bikers and Beach Bums
The second day of homecoming featured the theme of Hawaiians v. Bikers, where the freshman and sophomores were paired as Hawaiians and the juniors and seniors as Bikers. There were many great costumes all around campus including biker tattoos and Hawaiian leis. 
One sophomore, Sage Sorenson, went all out on Tuesday to dress up in her best Hawaiian attire. Her outfit included a rash guard, a Hawaiin shirt, a lace bracelet, and a fitting hat.
"I planned my outfits for homecoming week in advance. My best-dressed day was probably Tuesday since it was my favorite theme. I made sure to research Hawaiian ideas and compile them to make my outfit the best it could possibly be," said Sorenson.
Although the sophomores were very spirited, the Juniors and Seniors made sure they did their best too, including junior Christian Smith.
"I liked the biker day since I was finally able to use this helmet I have been holding on to. I thought it was pretty cool that the grades were paired together," said Smith.
Overall, the Biker and Hawaiian day showcased many amazing outfits with some of the best props of the week with featured helmets, mohawks, lulus, and lots of swimwear.
Out of My Way! Obstacle Course Sets US Students Racing
The second homecoming activity was an obstacle course. Located in the gym, the freshman came out victorious. The first activity included each grad having to sprint to the other side of the gym to pop a balloon with their teammate without their hands.
"My favorite part of the obstacle course was the balloon popping. I think it was funny seeing all the attempts and failures," said junior J.P Walsh.
The second part of the obstacle course was a math problem that included multiplication and division, but there were many mixed reviews on this part of the obstacle course. Many students would like to see these activities include more brawn than brains.
"I liked the homecoming activities this year, but I don't know why there wasn't something more fun in the obstacle course than a math problem," said senior Gavin Aydelotte. 
The last part of the obstacle course featured students running in a big red bubble. The gym was energetic during this event as many students bumped into each other.
Although the obstacle course had mixed reviews, it featured wide participation throughout the many activities and was a very fun way to end the second day of Homecoming.
Leave a Comment
About the Contributor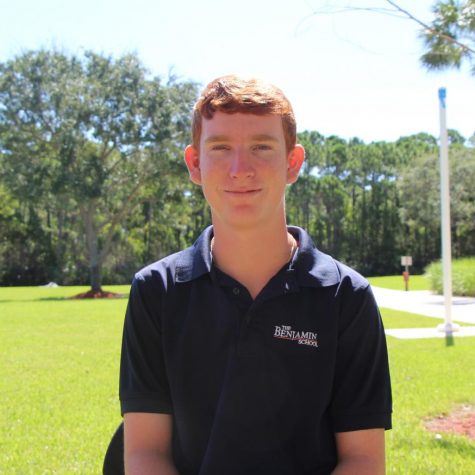 Matt Marasco, Sports Editor
Matthew Marasco, a staff writer for The Pharcyde. Now in his second year of The Pharcyde as a sophomore has attended Benjamin since Kindergarten. He likes...