Thursday: Dressings Day
Togas Galore
"Dressings" Day Covers US in Cheer
Every Homecoming week, the seniors get to partake in one of the Upper School's most prestigious traditions: wearing togas. On Thurs., Oct. 27, the Homecoming theme was salad dressings.
Freshmen were "French" dressing, meaning they could dress like they were from France. Sophomores were "Italian" hence their Italian attire. Juniors were "Ranch" dressing, dressing like the Wild West. Finally, the seniors were "Caesar" dressing, meaning they could dress like they were from Rome during the reign of Julius Caesar.
The toga tradition is a special privilege given to the senior class, separating their experience from all the other grades. Togas symbolize how special senior year is.
Senior Luke Egizio explains the importance of wearing togas to the seniors.
"I think it's cool to have the opportunity to dress differently than everyone else. It's kind of like a special thing just for us," said Egizio.
Junior Zach Neidoff expresses his excitement to wear a toga next year.
"I think it's a great senior tradition. I'm looking forward to finally getting the opportunity to participate in this tradition next year," said Neidoff.
It is obvious that "Toga Day" is beloved by the seniors, so it should stay a Homecoming tradition for the foreseeable future.
Male Cheerleaders Don't Jiggle Jiggle, They Fold
Class of '26 Claims Crown In Entertaining Upset, Sophomores Skip Event
Another year of Homecoming at the Upper School means another year of Male Cheer. On Thurs., Oct. 27, each grade level, minus the sophomores, competed for the title of "Best Male Cheer Team."
The freshmen were the first to perform. Being the youngest in the Upper School, they used their boundless energy to their advantage.
Freshman Julian Luiz, one of the stars of the freshmen Male Cheer team, described the roller-coaster of emotions he went through during their performance.
"In the beginning, it was scary because you're out in front of the whole school. But once we started dancing, I became less nervous and had a lot of fun," said Luiz.
The juniors were up next, and they put on a solid performance themselves. Junior JP Walsh detailed the highs and lows of their performance.
"I think we did the best we could. We felt pretty organized as a group. One thing we might need to work on for next time is adding different formations to our routine instead of being in a line the whole time," said Walsh.
The seniors were the last to perform. They put on an eventful show, but ultimately came up short. The freshmen came into the day as underdogs, but they were the clear winners when it was all said and done.
Leave a Comment
About the Contributors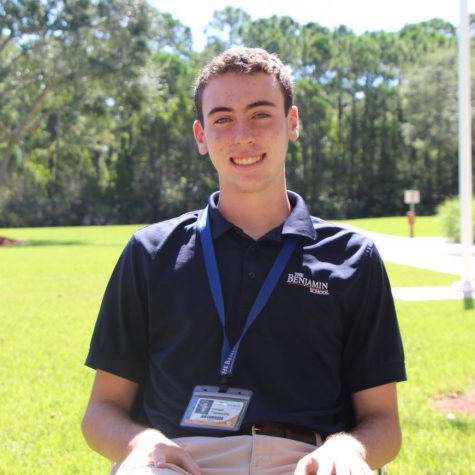 Joey Tomassetti, Managing Editor
Joey is a junior and is going into his second year in the Pharcyde. He is the Managing Editor of the paper. In his free time, he enjoys playing basketball,...