Monday: Generations Day
Dress Your Age
Onesies, Track Suits, Maternity Wear, and Sweater Vests Highlight Generations Day Spirit Wear
Upper School Students jumped through time on the first day of Spirit week. On Mon., Oct. 24, the School hosted "Generations Day," when each grade dressed up as members from different generations. The freshman dressed up as babies, the sophomores were college students, the juniors were mothers/fathers, and the seniors were grandparents.
Many freshmen came dressed in costumes, determined to help the Class send a message to the rest of the Upper School: 2026 has spirit!
Freshman Tatum Little discussed what it was like to be part of the excitement.
"I think it's really fun because some people have pacifiers and wear onesies. I wore a onesie and crocs with all my friends," shared Little.
Chase Odum, the older, wiser, and more spirited sophomore, came dressed up as a college student.
"I think it is cool because everyone can dress up as what they think a college student looks like. Also, for the other grades everyone can come together and it would make a family which I think is funny" adds Odum.
Odum's look consisted of a light green and white colorful button down shirt with light blue shorts.
Senior Carter Smith talked about Generations Day and what makes it special.
"It was really funny to dress up as an old grandma with my friends, and I walked around with a cane," said Smith.
From babies to old ladies, the first day of spirit week was a good old time.
CLASS OF 2025 DOMINATES DODGE BALL
The first day of Spirit Week came to a rousing conclusion with a series of dodgeball matches in the gym. The first battles saw the freshmen face off against the juniors while sophomores faced off against the seniors.
The freshman started off winning early in the match, but quickly shed players once the junior bleachers came alive with chants of support. It came down to a tough battle between Junior Brendan Matz and Freshman Gary Mann. Matz got Mann out after Mann tried catching one of the balls Matz threw, but dropped it.
"It got crazy at the end and I almost won but the ball tipped off my fingertips," reflected Mann.
The sophomores took on the seniors in an intensely balanced match. Seniors dropped like flies as the sophomores pulled off an upset to advance to a final championship round against their eastern-bleacher foes.
In the finals, the sophomores took down the Juniors as the match came down to sophomore Angelina Townsend against Ava Schulties.
"I did not expect to be the last one, but it was really fun and I got the winning out" exclaimed Townshend.
Competitive dodgeball was a great start to spirit week.
Leave a Comment
About the Contributors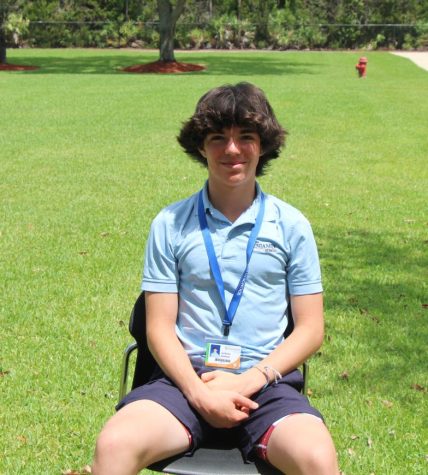 Jackson Zentner, Staff Writer
Jackson Zentner is a freshman and staff writer of The Pharcyde. He has been going to the Benjamin School since kindergarten. He enjoys sports and writing...