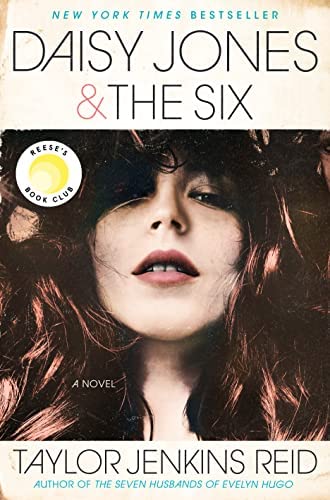 Daisy Jones and The Six
Taylor Jenkins Reed's 2019 novel, Daisy Jones & The Six, is a riveting story of the meteoric rise of an iconic 1970s rock band and the uncertainty surrounding their infamous breakup. Loosely based on the narrative of Fleetwood Mac, the tale is conveyed in a documentary style, told through background interviews with the band; moreover, this fictional story captures the essence of creativity in the chaotic, wild world of the 1970s.
I absolutely adored this book. The plot and execution of the story were portrayed beautifully. Every character was so individualistic and unique, I really enjoyed seeing how they all interacted with one another. Daisy and Billy, leading artists of the band, each had their own distinct personalities but the same taste for specific things in life. They were very well-developed characters, that worked well together and had immense support for one another during their highs and their lows. I also admired how the book was such a realistic perspective on love and life. It ended up being so far from what one would call a typical "happy ending", yet it is a positive outcome in its own right. 
Daisy Jones & The Six is one of four novels in the TJRU (Taylor Jenkins Reid Universe) where each book takes place in a different decade, but with characters, places, and ideas that intertwine throughout. The Seven Husbands of Evelyn Hugo is probably the most notable story of the few. I have found Daisy Jones & The Six to be one of my favorite reads, and would definitely recommend it to anyone with a love for music and the culture of the 70s. With its new limited series premiering in March of 2023, it is important that this is a must-read for those who plan to watch the show!