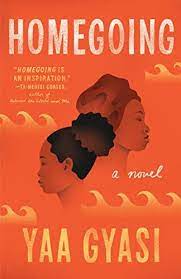 Homegoing
Yaa Gyasi's, 2016, debut historical fiction novel, Homegoing, is a staggering multi-generational narrative that begins in the 17th century in Ghana and spans all the way to the United States in the 20th century. The story is of two half-sisters, both unaware of each other's existence. One marries a British governor and wealthy slave trader, while the other is enslaved in the basement of their castle. The story that begins with them and their legacies – of suffering, slavery, misery, survival, and endurance – is carried on by their successors. 
Every story is different, yet impactful, all are tied together by multiple Black injustices and similar shared experiences. Each character's attempt towards a better life, survival, and mere existence is heart-rending. The narration of this debut novel is sophisticated and engrossing, and I am astounded by the amount of systematic research Gyasi must have conducted, especially at such a young age.
My favorite story within the novel would probably be Willie. Willie is the first of her descendants to be born into a joyful, free adolescence, which inspires her and her husband, Robert, to strive for more by relocating to Harlem, New York. Because of their strong community ties in their hometown, Pratt City,  makes this move possible. However, because Pratt City is a relative bubble, they are unaware of and ill-prepared for the difficulties they will face in the prejudice of New York. Their story is truly heartbreaking, but it gives the reader a raw look at how racism plays a part in even the deepest of relationships. 
Yaa Gyasi's revelatory first novel pits the destiny of the individual against the annihilating forces of the period, delivering unforgettable characters whose existences were shaped by historical factors beyond their control. Homegoing is a fantastic reading experience that should not be missed.