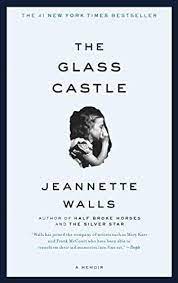 The Glass Castle
Jeannette Walls' 2005 memoir, The Glass Castle – which spent eight years on the New York Times bestseller list – is a truly remarkable story of perseverance, repentance, and a transformative look into a family that is both profoundly dysfunctional and nomadic and yet they all obtain a deep love and loyalty for one another. 
The book, to say the least, was so bizarre and unpredictable that the reader might wonder how this situation could be possible. But, I felt as though I was on my toes for the entirety of the book. The memoir truly captures Walls' bravery and perseverance in the difficult times she endured throughout her childhood, while also demonstrating her recovery and reflectance while she writes. I really enjoyed seeing the relationship between the Walls' children and how they supported each other and protected one another in times of need. Though they did not have much, they always found a way to provide for one another. I also enjoyed Walls' portrayal of her father, Rex Walls. Though he is a manipulative and disturbing character, Walls' found ways for the reader to empathize with Rex and understand why he behaved the way that he did. Readers could see Rex's complexity as he wanted to be a good father to his children but money, mental health, and addiction took away from that. It is an upsetting battle that we can see him constantly fighting throughout the book. 
Overall, I found the memoir to be heartbreaking, empowering, humorous, and unsettling. If you enjoyed the memoir Educated, by Tara Westover or Born a Crime, by Trevor Noah, this is a book of similar taste and is highly recommended!