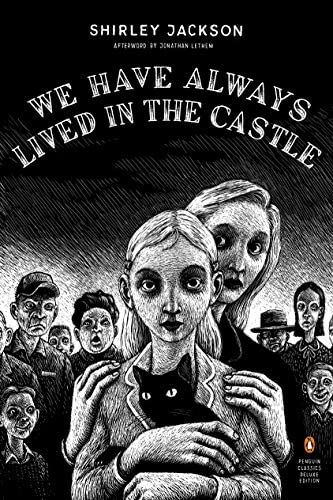 We Have Always Lived in the Castle
Shirley Jackson's 1962 novel, We Have Always Lived in the Castle, is a gothic fiction and mystery novel which features a twisted family full of outcasts and secrets.
The protagonists, Merricat and her older sister Constance live alone with their Uncle Julian, the last living family member they have. The rest of the family was poisoned by arsenic six years ago, and the family has become a living legend to the surrounding town, who deeply fear the family. When their distant cousin Charles comes to visit, Merricat, who is deeply spiritual, takes his presence as a bad omen and sets his room on fire. After half of the home is burned to ash and their uncle is dead, the sisters board up the house and live in seclusion for the rest of the novel. They merely survive off of the food apologetic neighbors leave by the door. At the end of the novel, it is revealed that the real murderer is Merricat, a surprising plot twist, considering Constance was the one accused.
What I love most about this book is the suspension built up throughout the novel. As more secrets are revealed, the tension builds up until finally, the killer is revealed. The author, Shirley Jackson, suffers from agoraphobia, which is why these characters live in seclusion as well. Her personal experiences shine throughout the novel and give Merricat and Constance isolation and social anxiety a realistic touch.
Reading this book, I quickly became engulfed in the complex plot and fascinated with Merricat's spirituality. Records from Jackson's journal during the time that she was writing the book include her, "longings for self-security, self-control, and refuge that echo the novel's central concern with the self-determination of women in a safe environment.", as Lynette Carpenter describes in her analytical article. I related to the central character's social- anxiety which made reading the novel even more personal.
The one critique I have is that Merricat's intense imagination makes it slightly difficult to decipher what is a result of her delusions and what is physically happening in the novel. 
Overall, I very much enjoyed Jackson's masterpiece and look forward to exploring more of her works.