Review: Field of Greens Provides a Fresh Approach to Vending Machines
Sick and tired of chips and candy? Good news: we got a new vending machine!
Over winter break at the Benjamin Upper School, a new vending machine was installed. 
Located near the other vending machines, the new machine features Field of Green's most popular items: BBQ chicken wrap, southwest chicken wrap, chicken caesar salad wrap, Tuscan wrap, Full of  Life salad, Greek salad, carrot cake, birthday cake, vegan chocolate cake, Gatorade fit, daily dose of green shots, and bai drinks. 
This vending machine was added to supply healthier options for students who want something nutritious. 
Dean of Students Mr. Kevin Jacobsen shares the reasoning behind this new addition.
"I requested the new machine for a few reasons. The most compelling case for it is that we want to offer healthy options for students to eat for snacks and lunch. We also do not have a cafeteria, obviously, so this fills another need in case a student forgets lunch in the morning. We also want to curtail parents dropping off lunch every day, so this gives another reason for that to be unnecessary."
You can be aware that your food is fresh since this machine is refreshed every morning. 
Junior Silas Rooney tried the chicken caesar wrap from the new machine.
"The new vending machine was definitely a great new addition to the Upper School campus. I have been to Field of Greens before, so I was excited when I saw it come to Benjamin. The Caesar Wrap was very enjoyable," said Rooney.
Senior Brett Salach who also tried the chicken caesar wrap from the new machine said, "It was good, but the ones from 3 Natives are better." 
Junior Maggie Smith had visited the machine and tried the birthday cake along with a wrap. 
"It [the cake] tastes so good and it makes me feel like eating it is healthier, rather than having a bag of chips or candy. The chicken caesar wrap also tasted so good," she said. 
Field of Greens has four different locations, Palm Beach, West Palm Beach, Wellington, and North Palm Beach. 
"I feel like Field of Greens tastes better when you are at the restaurant, but it is still pretty good for school lunch. I am confused why they are delivering the food from the restaurant in West Palm when there is a restaurant ten minutes from school in North Palm Beach. I've had the caesar wrap from the machine, it's ok, they should definitely include the caesar salad in the future," said junior Bryn Feldman 
"This was first brought to my attention by a small group of students looking for healthy snacks, so I want Benjamin students to know that if they have ideas for improving school life that I will listen. I hope students are enjoying the new addition to campus." shared Mr. Jacobsen. 
The vending machine has so far proven to be a good addition to the Upper School, providing a new, healthy option for students to eat from during lunch. It was certainly an excellent idea to add this new vending machine.
Leave a Comment
About the Contributor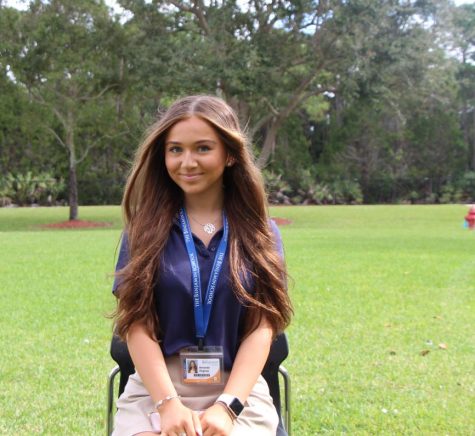 Amanda Duguay, Staff Writer
Amanda Duguay is a staff writer for The Pharcyde. She joined the Benjamin School this year and is a junior. She enjoys writing about sports and entertainment.