Maturing Boys' Tennis Served Loss by Experienced North Broward Prep
On Wednesday, Feb. 22, the boys' varsity tennis team played North Broward Prep at 3:30 P.M in a set of early–season matinee matches. It was a rough day for the Bucs, as the Eagles were victorious in each of the afternoon's seven pairings, yet the Bucs remain optimistic about the direction in which they are heading.
"We are still looking to improve. As one of the seniors, I try to mentor the younger players and help them with whatever they need. More wins will come eventually as we continue to grow as a team," senior captain Wils Davis said confidently.
Varsity head coach Robbie Clouse cited the Eagles' talent advantage as the main reason for the Bucs' loss.
"We are a young and inexperienced team. They have recruited players who will play in Division 1. Players at Benjamin play tennis as a hobby. The North Broward Prep School plays for state titles. We can compete in districts and regionals, but are limited by our youth. We still have a long way to go, though," Clouse remarked.
The boys' teams played five singles and two doubles matches in a pro set (eight games). The top seed from each team played each other, the second seed from each team, and so forth.
In the first match, Bucs seventh-grader Misha Liberzon dueled Eagle's junior Jacob Hartman. Liberzon got off to a rocky start, falling behind 5-1 early on. But after regaining his focus, Liberzon was able to claw his way back to a 5-4 deficit. Hartman's experience paid off as he closed the match 8-4.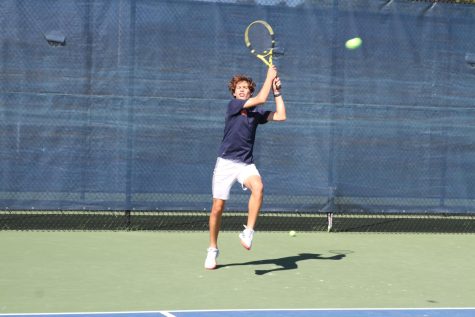 "Honestly, I was playing horribly in those first six games. My serves were not going in, and he was putting the ball into places I could not get to," Liberzon states, frustrated. "When I brought it back to 5-4, I felt more comfortable, but then he started to heat up. He played a great match and is a great player."
In the second match, senior Aditya Jasti played against the Eagle's senior Felipe Ferreria. Ferreria was in control for the entirety of the match and ultimately came out on top, 8-1. Jasti feels like he had the wrong game plan the entire match.
"I think that I tried to go for too little, and I tried to play too consistently because that caused me to lose," Jasti expressed. "Whenever I hit a heavy top–spin shot, my opponent would crush it. But, when I started being aggressive, I was able to win my only game against him."
Bucs senior Owen Gruner battled Eagles eighth grader Jacob Stein. Gruner played a competitive match, with many of his games going to deuce.
"It was a good match. My serve was not on point, and I could not follow through on some of the points with my groundstrokes. On a positive note, my volleys were good, and those led me through my match. I found a weakness in my opponent and used it to my advantage," Gruner mentioned.
Bucs eighth grader Chase Atkins competed against Eagles freshman Alexander Lessen. Atkins played a good match, but Lessen played better. He was MaxPreps' Player of the Match.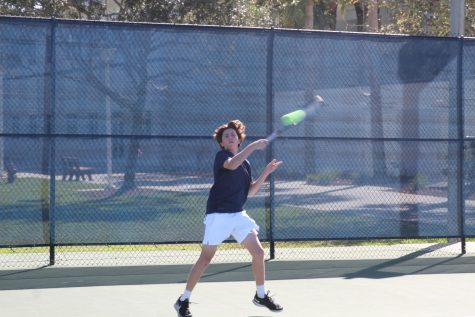 "I played well today, but my opponent played out of his mind. I was getting the ball back in the court, and he just ran me around the baseline. His serve was tough to get since it had so much kick. I did not expect that outcome with how I played the past few days.
Bucs sophomore R.J. Sahm matched up with Eagles sophomore Julius Binder. Sahm was filling in for freshman Ishe Makoni, who was not feeling well moments before the match. One would have to think that the record heat in the Southeast played a role in Makoni's health. Binder eventually went on to beat Sahm 8-1.
"I felt surprised that Ishe was not playing. Missing two players really can change the course of the match. It changed how I played; I was trying to keep the ball in play as much as possible since I was playing someone better than me. I did this because I knew my opponent would make a couple of errors, so I tried to win as many points as possible," Sahm explained.
The doubles matches were played after the five singles matches, and they did not go much better. In the first match, Liberzon and Gruner were defeated by Hartman and Ferreira. The Eagles overwhelmed the Bucs, 8-4.
In the second match, Atkins and Davis could not come away with a win against Lessen and Stein. This doubles match was closer, including a near 6-1 comeback that fell short. The Eagles went on to win, 8-6.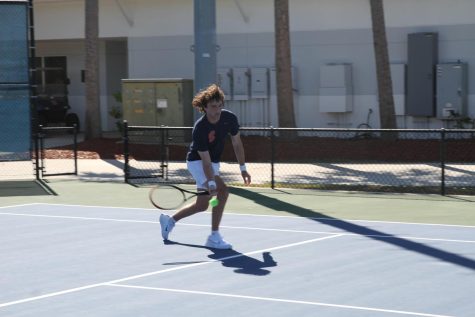 In other news, Bucs star senior Darian Salehi missed his second straight match yesterday with a groin injury. Salehi says he is feeling better but wants another week of rest before returning to the court.
The boys' next home match is on Tues., Feb. 28, vs. The Pine School, as the Bucs look for their first home victory of the young season.
Leave a Comment