Beach Volleyball Spikes Preseason Victory In 4-1 Domination
On Wednesday, Feb. 22, the Benjamin varsity beach volleyball team defeated Martin County High School in their preseason debut on the Miller Family Beach Volleyball Courts.
The Bucs experimented with their duos in order to increase the overall team chemistry. This strategy differs from one that the team may employ in the regular season, as everybody played with somebody new. Junior Maggie Smith found this particularly useful.
"We had to see what worked and what didn't," she said. "Some people meshed really well, and others didn't. It's better to get testing new partners out of the way earlier so that we can have a more successful season."
Each of the three courts was occupied, with three matches taking place at once on the 80 degree day. The Bucs were victorious in four out of the five matches, giving them the overall win. A sixth match, which counted as an exhibition match, concluded with another win.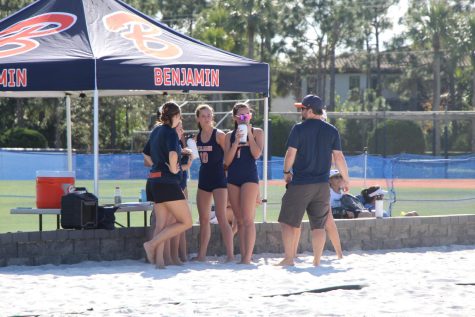 In line one of the Bucs' six matches, junior Grace Havlicek and freshman Riley McCaughey dropped two hard fought sets with scores of 21-23, 20-22. Despite the result, Havlicek is confident about the team's future results because of their team's bonding.
"Getting back into the season and having a couple of games to get us warmed up is always exciting," she said. "As a whole, I feel like we all get along with each other incredibly well. Most of us play indoor volleyball together for school, so we already have enormous amounts of chemistry."
Senior Payton Bryan and sophomore Tully Martin's match resulted in a two-set victory with a score line of 21-15, 21-19. 
The team's senior duo of Riley MacDermott and Ella Ladd won their match 21-15, 21-14.
The Bucs' fourth line, Smith and sophomore Leanna Spada, was the only team to play a third set. After winning the first set 21-5, they dropped the second set 19-21 but ultimately came in clutch to win the final set 15-7. Throughout the difficult match, Smith noted the importance of fighting hard and working together.
"I think that we learned a lot as a pair. It's helped a lot to get to know each player," she said. 
The Bucs' fourth and final victory came from sophomores Eliza Ashley and Ellie Bischoff with a 21-9, 21-11 score. 
Additionally, freshmen Lila Brodner and Skylar Muir played a match that did not count for the official score line, serving as an exhibition match. They won the match with a score of 21-9 and 21-15. For Muir, it was good to get her feet on the sand for the first time.
"Because this is my first year on the team and playing beach volleyball, I think that it was a good first experience," she said. "This game showed me what a real game is like and showed me how the rest of the season is going to go."
The crowd for Wednesday's match was minimal, consisting of a handful of parents and grandparents. There were notably few students in attendance, something those in attendance attributed to the time, weather, lack of comfortable seating. The team hopes that there will be an uptick in attendance as the season progresses.
Although this match will not count towards the team's official record for the season since it is a preseason game, it serves as a confidence booster for what is to come this season. The Bucs' regular season debut will come on Feb. 28 when they host Palm Beach Gardens High School.
Leave a Comment