Girls' Varsity Lacrosse Faces a Desolating Defeat Against Pine Crest
On Thursday, Feb. 23rd, the girls' varsity lacrosse team hosted a talented Pine Crest squad for an early season battle of powerhouse programs. Despite starting out strong with a lead entering the second half, the Lady Bucs were overcome by their energized and resolute opponents and ended up losing by one point. The final score of the game was 8-7. 
This was the girls' fourth game–and first home game– of the season. This match was very important for the team because it was Pine Crest that stifled Benjamin's chances of winning States last year. The team will have a second chance at revenge, when it meets Pine Crest later on this season.
Though Pine Crest came out on top, Benjamin's coaches and team are very proud of the game they played and the immense progress they have made. The game was very close, and many players believe that Benjamin will certainly beat them next time.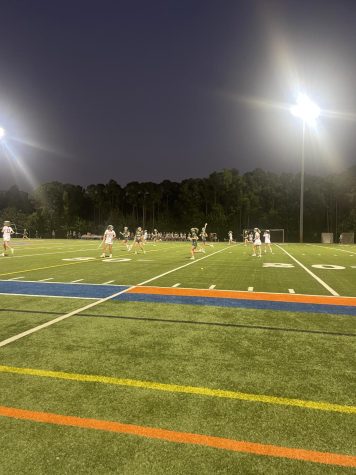 The closeness of the game kept the atmosphere tense and often led to some on-field excitement. Even with a draw control of only thirty-seven percent, the Benjamin girls were able to retain possession for much of the game and took many shots on goal. Unfortunately, only seven out of the twenty shots on goal went in. Three of these goals belonged to Ava Schulties, a junior attacker, Lehigh commit, and one of the game's star players. 
Schulties was not the only player who stood out on Thursday. Coaches awarded 'player of the game' to Tati Georgas, a senior and captain of the team, for her excellent communication and performance on defense. 
Another team captain, senior, Nicole Nicklaus, made impressive shots on the goal with a successful return. Nicklaus is the starting attackman for the Girl's Lacrosse team and has the team's support and admiration as one of the two captains.
Though proud of their performance, players noted the scramble as time was running out in the game. Freshman starter, Madison Jayson, said, "We played a really hard game and gave all we had, but we can't panic as the clock ticks down during a close game. We have to work on keeping our heads clear and not letting mistakes get to us." 
Players on the sidelines were enthusiastic about the whole team's performance and could be seen celebrating with every goal, save, and turnover. The team has taken the loss in stride and has been intensely reviewing the game to look for areas of improvement in order to be prepared for the next game. 
The Lady Bucs will host the Oxbridge Thunderwolves on Thursday, Mar. 2 at 6:00 pm at Theofilos Field.
Leave a Comment