Seniors Introduced To The Science of Leaving Omaha
On Feb. 14, the senior class took a trip to Palm Beach Dramaworks in West Palm Beach to view the world premier of The Science of Leaving Omaha.
The hour and a half long play features Iris, a crematory worker, on a night where Baker, a man whose wife has just passed away and is in the crematory, breaks in. The two share a common goal to leave the city of Omaha, Nebraska but are ultimately unable to since Baker's illegal actions catch up to him. The play was originally written by Carter W. Lewis, a former Playwright-in-Residence at Washington University.
The play is meant to reflect the difficulties of the working and middle class, according to Lewis. What makes leaving Omaha so difficult for Iris and Baker is that they are just two working class young adults with no family or support system around them.
"Iris and Baker are two kids that have had a rough go at it, yet they have not given up, and they are going to fight until they make their lives a little bit better for themselves, whatever that may be for them," said Georgi James, the actress for Iris, in Palm Beach Dramaworks' trailer for the play.
While the play was not well-received by many members of the Class of 2023 and their chaperones, Mary Damiano's review for The Palm Beach Daily News' was quite positive.
"I enjoyed the storyline, but some of the acting, particularly the main lead female, I didn't completely buy into," said biology teacher Mrs. Emilie Solomon, who was asked to help chaperone the trip by English Department Chair Mrs. Sharon Wendler.
Senior Ismael Ansar agreed that the storyline had interesting components, but he felt that other parts of the play were rather lackluster and monotonous.
"The play was decent," Ansar said. "The story was very interesting and escalated toward the end. I didn't like the beginning of the play since it was very boring, and there also wasn't really any backstory given."
The English Department is always looking to find ways to expose students to different literary works, according to Mrs. Wendler. Last October, the freshmen class went to view 4000 Miles by Amy Herzog at Palm Beach Dramaworks.
"This is the second trip this year in which the English Department has ushered students off campus to enjoy the theater," Mrs. Wendler said. "The choice to see who would go was easy: the first play was well suited to a younger audience, the last to an older one."
During last school year, the Maltz Jupiter Theatre group used Benjamin Hall to perform their play I Hate Hamlet, which some English classes viewed, including last year's seniors. However, there is no plan for there to be an annual tradition of viewing plays for the senior class, according to Mrs. Wendler. The attendees of the plays that are viewed by Benjamin students are selected based on subject matter, genre, and more.
While the play's performance was underwhelming for students and faculty alike, it was a positive opportunity for the senior class to experience what makes some plays better than others as well as view a play in its development phase.
"Because it was a world premiere, we couldn't know about or vet the play as we can with others but had researched its etymology and knew that it was an evolving piece of literature," Mrs. Wendler said. "It seems like the play needs some revisions to meet its goals thematically.  It's quite an opportunity to be involved in a project at the nascent stages."
Leave a Comment
About the Contributor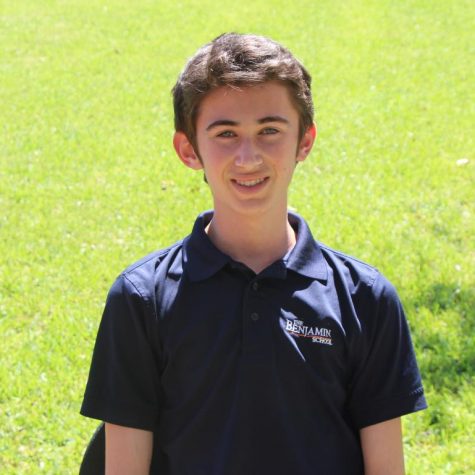 Charlie Spungin, Editor-in-Chief
Charlie Spungin is a senior and has been a member of The Pharcyde for four years. He is the Editor-in-Chief and formerly the Copy and Sports Editor....