Student Council Elections Wrap-Up: Junior Maggie Smith Wins President
During assembly on Tuesday, Feb. 21, Student Council advisor Mrs. Anne Franzen announced the students who will take office for Student Council next year. She told junior Talia Miller as Secretary, sophomore Vanessa Zito as Treasurer, junior Ella Womble as Historian, junior Hudson Byrne as Vice President, and junior Maggie Smith as President. 
The Student Council elections opened for students and teachers to vote on Feb. 15. New to this year's election, faculty received a 25% share of the vote. A total of 263 students and 45 faculty members voted.
The total of ten students who ran for office matched the number from the year prior. After taking complete control of the Student Council this year, Mrs. Franzen believes this election went relatively smoothly, mainly due to the candidates' performances. 
"It was an excellent and positive campaign with four qualified candidates. These candidates created positive and creative campaigns. They presented their qualifications to the student body in their speeches. I am proud of this year's election. Most importantly, a significant portion of the community used their voting voices to elect a new slate of officers to represent them starting this year and continuing through March of the next school year," said Mrs. Franzen. 
Miller ran unopposed for Secretary and won by default. Despite this, she still has plans to do her best to improve the School and bring her ideas to Student Council.
"Next year, I hope to make the spirit weeks more fun and keep everything organized in Student Council," Miller explained, "Even though I ran unopposed, it feels pretty good to win. I am super excited for what next year brings."
Like the Secretary election, Zito was the only candidate to run for Treasurer. As the only sophomore elected this year, Zito feels she can still impact the student body. 
"I feel honored to be the only lower-classman that is a Student Council officer," Zito expressed. "I feel the significant responsibilities must be met with each officer's proper dedication. My grade believes that I can also handle this position's responsibilities."
Junior Ella Womble won Historian over sophomore Scott Noble. After being a class representative, she feels ready to take on a more significant role for the Student Council.
"It feels rewarding [to win the election] because I'm moving up on the Student Council and get to represent the students in a more impactful way. It means taking on more responsibility for the students," Womble remarked with joy.  "I will make sure to share teams who win games, people who win awards, and honorary things students do."
Byrne won the Vice Presidential election over junior Hayley Womble. Senior Leo Bryne, Hudson's older brother, currently holds the Vice President position and is honored to pass the privilege of being Vice President to his brother. 
"I feel like Hudson will keep the Byrne name strong at Benjamin. It means a lot to me as a brother, as I am both proud and hyped for him to take over my position. I think he will do amazing things, and I am so proud," Leo proudly stated. 
Keeping the Vice Presidency in the family, Hudson is excited for next year. 
"I truly want to be able to make the best impact on the school that I can," Byrne stated, "I will always be available to all student's opinions to make sure they are included in the decisions made by the Student Council."
The candidates for President were juniors Grace Havlicek, JP Walsh, Taylor Grande, and Maggie Smith. After having just two candidates last year, the student body and teachers had four students to pick from this year. Smith has looked forward to becoming the Upper School's President for years now. 
"Being President of the Upper School has been a dream of mine since I was a little girl. Luckily, In Middle School, I was the President during my eighth-grade year," Smith happily exclaimed. "Throughout high school, I have served many different roles; the one I most wanted was President. I have known that I would run for President since my freshman year. I am thrilled to be President because I genuinely feel I can represent the entire student body in the most positive way possible."
To the Head of Upper School Mr. Fletcher Carr, having a Student Council is invaluable, providing the student body with a way to voice their opinions and make a difference in the wider Benjamin community.
"Any government led by the major constituents, the students here, is really important. It is a mirror of our own attempts at civic engagement and how to listen, make change, and do the things that we can hope to get done," Mr. Carr stated.
Leave a Comment
About the Contributor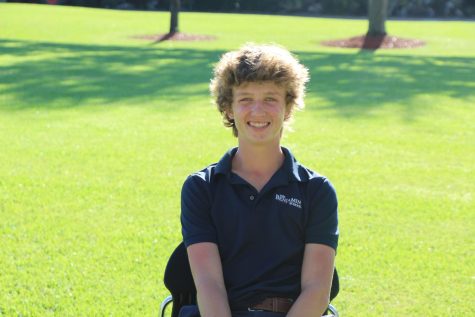 Reid Waxman, Staff Writer
Reid Waxman is a freshman at Benjamin and is a staff writer for the Pharcyte. He has been attending this school since WOW and has experience from the Neercyde from...