New York Winter and Fall Fashion Week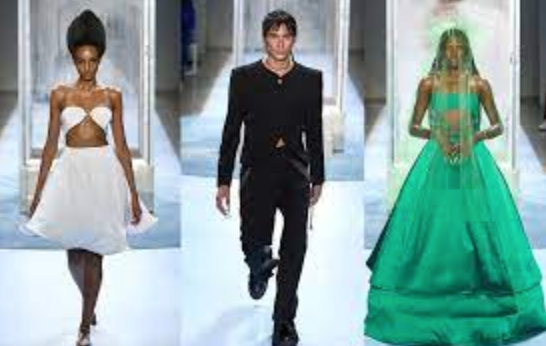 New York Fashion Week took place from Friday, Feb 10 to Wednesday, Feb 15, 2023. The New York Fashion Week is a semi-annual event, every September and February, during which talented designers from all over the world show their designs to the press and potential customers.
Designers and brands such as Sergio Hudson, Christian Siriano, Kate Spade, Tory Burch, Brandon Maxwell, and more showcased their designers' winter and fall collections.
The collections provided various styles, from loose knits and structured suits to silky leather skirts and floor-skimming maxi dresses.
Maxi lengths dresses were an extremely popular trend in this showcase. Specifically, there were many long black dresses showcased on the runway. 
The outfits were incredible however an unforgettable appearance was made by models including Tommy Dorfman and Ella Emhoff. They strolled as long-beaked birds, mystical elves, and whiskered cats for an equally surreal and ethereal performance.
The highlights of this year are undoubtedly the collections from Badgley Mischka, an elegant take on modern fashion, Head of State, with their powerful message acknowledging the struggles of immigration, and as always, Raisavanessa's avant-garde style. 
The Head of State February 2023 collection featured an Afro-Futuristic style and the vibrant colors made the audience unable to look away. The highlight of the show was a jaw-dropping emerald gown that became one of the top looks of the week. 
This year's designer to note is Taussy Daniel, an African designer who continues to break barriers with her elegant Afro-Oriental style. In partnership with Lisa Ju and Hengki Kawilarang, Taussy created some of the best looks of the week, with focal colors of gold, seafoam, chartreuse, and black.
Another favorite designer of the week was Head of State's Taofeek Abijako, a Nigerian designer who told the story of his father's immigration while displaying his desire to return home through his designs. Each model wore a clear liquid on their face to create the appearance of tears.
More and more brands are beginning to prioritize their social and environmental impact. Some even appeared at fashion week with sustainable clothing. There are several ways in which brands have been able to be more eco-conscious. Some brands like Rentrayage have begun upcycling to reduce waste from discarded and scrap clothing. Others have begun locally sourcing materials to reduce the carbon footprint created by transporting material. 
Leave a Comment