All Female Delegation Participates In JSA Winter Congress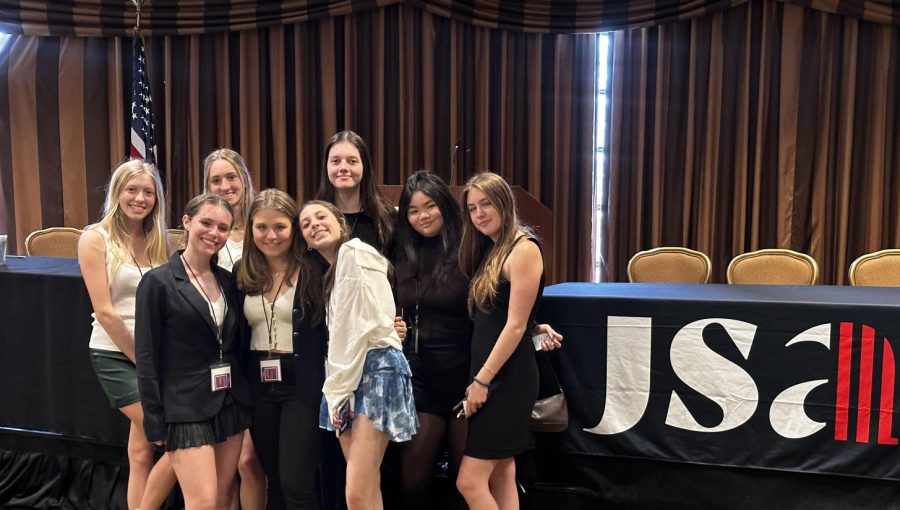 On January 23, members of the JSA (Junior Statesmen of America) club took a trip to Washington DC to attend their mock Congress. Like past years, members of the club worked with a chosen partner and drafted bills about a topic that they chose. 
In a partnership, one student is a Representative (for the House of Representatives), and the other is a Senator (for the Senate). Committees to pass these bills last for one day and if their bill passes in both houses, then the pair goes on to the second day of voting/debating. 
This year was the first year back in person since three years ago when COVID-19 first struck. This made the trip a lot more fun and interactive for the students that attended the trip. 
"I did JSA when I was a freshman, and that was the last time that it was in person. Then the next two years, they held the events virtually. We went back in person this year, which was a very nice addition," expressed Senior Christina Taylor. 
Taylor said that "just being able to go to DC, being in person for committees, and being able to do all of the sightseeing before and after the competition just made this year a lot more special than it was when it was online."
"Traveling out of state was fun, and the chaperones were also very nice. It was overall a very good learning experience," said Freshman Caroline Welke.
The club did not have that many members this year, but that did not ruin the fun that they had on the trip. 
"I really liked JSA because of the people who did it with me. Even though not many people went, some of my friends did the club with me which made it fun. I was also able to become closer with some upperclassmen that I would have never really had the chance to talk to."
Taylor shares the same enjoyment as Welke from the trip. She was also happy to be able to meet new people. 
Taylor said that she "really enjoyed meeting people from different states and getting time to spend with our chapter that I haven't really talked to before. Obviously, seeing Washington DC was also really fun."
Sometimes, members of the club's bills do not always get passed. However, that does not spoil the trip. 
"Even though our bill didn't get passed I still had a ton of fun. I really liked the itinerary. On Thursday, we got there, and we went shopping because it was an all girls trip. We went to Georgetown which was a great time. On Friday, we went to the national mall where we saw a bunch of monuments and museums. On Saturday and Sunday our events were held. On Saturday, we had night time activities; musical chairs, karaoke, etc.," exclaimed Welke.
There were very minimal negative aspects about the trip according to its members. However, the convention was not as organized as past years due to this year being their first year back in person.
"This year, the convention was really disorganized, but I think that was just because it was our first year back in person. Other than that, I really enjoyed every other part of the trip," said Taylor.
The members of JSA are happy with how their trip went and hope to get other people to join their club.
Leave a Comment