Students Look To Build Their Schedules For Next Year, Counselors Advise Them Through The Process.
As spring approaches, the faculty and administration are gearing up for the annual class registration process to enroll students in classes for the next school year. 
The scheduling process is no easy task and takes many different faculty members from several departments to complete. Student Services Counselor Dr. Renea Yates is one of the main teachers managing this system. 
"It takes a team to complete the registration and scheduling process. Teachers, department chairs, the Academic Dean and Academic Council members all finalize course offerings. Students meet with teachers, Student Services, college counselors and advisors to discuss and select courses. Once students have requested courses, those numbers are utilized to create a master schedule," Dr. Yates explained. 
The scheduling process involves specific advisors for each grade.  Current freshmen and sophomores worked with Dr Yates or Upper School Learning Specialist Mrs. Melissa Rizzitano to build their schedule, while current juniors met with their college counselors. 
Registering for classes is first based on two factors: teacher recommendations, which can be seen in the Course Request section on BucLinks, and student input. To receive a recommendation for an Honors or AP class, a student must have at least a 90% average in the preceding course. Once students have a good idea of what their schedule will look like, they can enter in the recommendations on BucLinks, which will then be added to the master schedule later on. 
This first step of student scheduling had to be completed by Feb. 24. After this date, all recommendations from teachers disappeared on BucLinks. Next, Upper School Academic Dean Mrs. Caroline Guzman generated a list of all of the courses that students requested and sent them out to the department chairs to make sure each student was placed in the appropriate classes. These finalized lists will then be sent back to Mrs. Guzman. 
After spring break, a course request form will be sent to the current eighth graders in the Middle School, where they will choose the classes they want to take for their freshman year. If students want to take Honors or AP classes, they will need to get recommendations from their eighth grade teachers as well. After all of the eighth grade schedules are complete, Mrs. Guzman will complete the master schedule around the beginning of April.   
Once the master schedule is fully created, the administration will determine how many sections are needed for classes, assign teachers to each course, and resolve conflicts in individual schedules. 
There are many things to consider when thinking about which classes to take. The first is how to complete the graduation requirements, which consist of 24 credits from a variety of different classes. A full year course like Algebra 2 Honors represents a full credit while a half-year course like Graphic Design counts as half of a credit. 
"In English and math, a student needs four credits, in science three and a half credits of labs, which includes HSB. World language needs three credits, in arts and innovation, one and a half credits, P.E one credit, and then four credits of electives,'' Guzman explained. 
The second thing students should keep in mind when designing their schedule is what classes their target colleges may want to see. For example, a small liberal arts college like Amherst may be looking for discussion-based seminar classes, while big state schools like the University of Florida may be more focused on AP classes. 
Director of College Counseling Mrs. Anna Wright believes that students should choose classes that they are truly interested in, while also challenging themselves with a rigorous schedule. 
"I encourage students to take the five core classes of English, math, history, science and world language as long as possible because all schools like to see those. But overall, it's crucial that students choose classes they have a real passion for. Universities look for students who are intellectually curious, and if students take a class because they really want to, they will be naturally motivated and engaged," Mrs. Wright said. 
The scheduling process is complex, but Benjamin's variety of classes ensures that every student has the opportunity to learn the skills they need to be successful in the future. 
"The good thing is that Benjamin has a huge menu of classes that students can choose from to best discover their passions and who they want to be. Students should utilize the many resources offered on campus to help them have a successful Upper School experience," Dr. Yates expressed.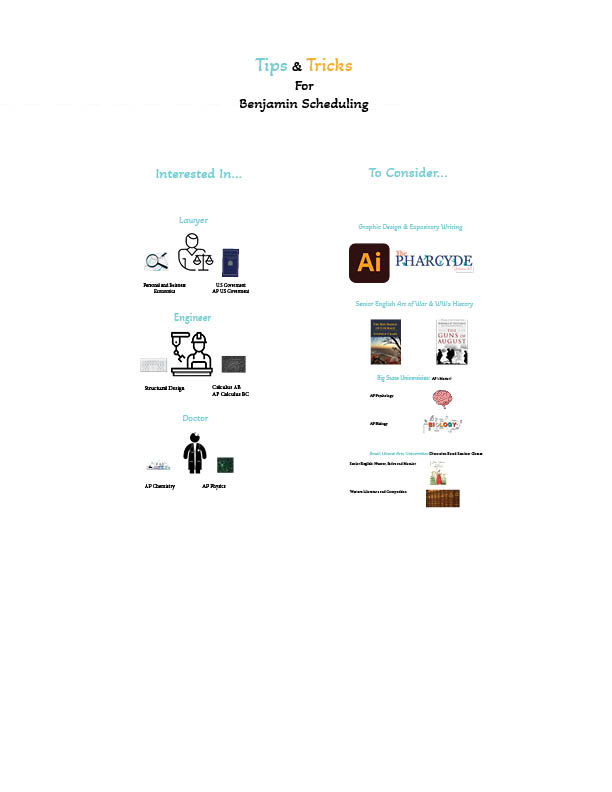 Leave a Comment
About the Contributors
Chase Zur, Associate Editor
Chase Zur is a sophomore and this is her second semester in The Pharcyde. Chase has attended The Benjamin School since WOW and is excited to start her...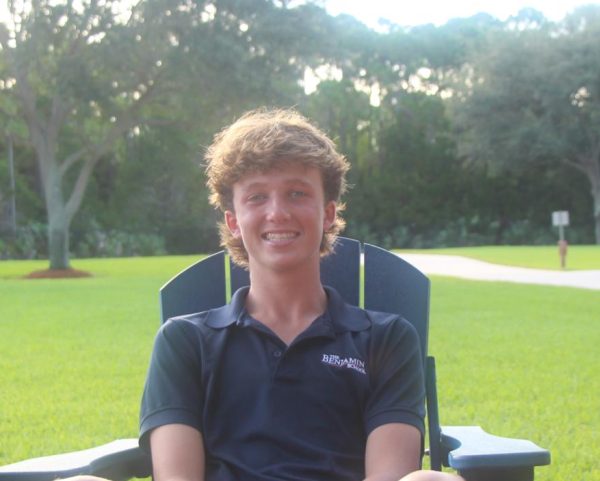 Reid Waxman, Associate Editor
Reid Waxman is a sophomore at Benjamin and is a staff writer for the Pharcyte. He has been attending this school since WOW and has experience from the...