Making An Impact: What Does That Really Mean?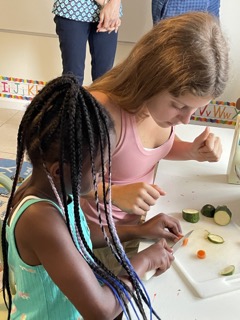 In a world with countless issues that demand attention, it can be overwhelming to think about where to start when it comes to making a difference. Many people think that impact must be world-changing, but even the smallest actions can have a profound effect. Whether it's listening to a friend in a time of need or volunteering at a charity, each act of kindness has the potential to make a positive difference. 
So why make an impact? Why go out of your way to try to make someone else's situation a little bit better? Junior Zoe Cooper explains the immeasurable benefits that can come from choosing this path. 
"I believe that helping others and making an impact results in a joy incomparable to any emotion that will ever come out of doing something for only yourself. Impact makes you feel an unparalleled sense of accomplishment, and it also helps you grow as a person. By pushing yourself to make an impact, you start to understand new perspectives and gain a sense of gratitude for your own life," Cooper said.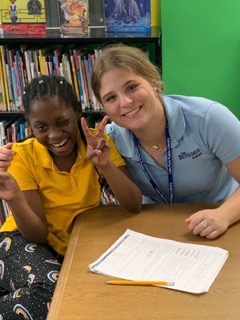 In a series of recent interviews, it's clear that both students and teachers at Benjamin have different ideas of what impact means and how they can make a difference in the world around them. Sophomore Darrow Becker believes the ability to have impact is inherent in human nature. 
"I think the best way to define impact is by using its verb form, to impact. To impact can mean providing growth to your community, or it could simply be bringing change you wish to see in yourself. In every definition, impacting relates to having some sort of effect, which I think people do naturally, but the type of impact you'll have is something that only you can decide," said Becker. 
Becker recently started tutoring underprivileged children through LearnToBe, an online website which helps provide free virtual tutoring to low-income families or those with learning disabilities. The experience has been meaningful for him and he has found that by helping others, he has enriched his own life as well. 
"I have been tutoring a sixth grader named Mark, whose family recently moved out of Ukraine due to conflicts there, and has two parents that only speak Ukrainian. I join him every Sunday answering any questions he may have as his parents are unfortunately unable to help him with his english-based school work. Not only has the tutoring improved myself, but Mark has reached out to me to tell me that I have helped him improve his grade and have also helped him really enjoy school," Becker remarked.  
There are many ways, beyond tutoring, to make an impact. It can be as simple as having an extra conversation with someone to make them more comfortable and confident. English teacher, Mrs. Suzanne McCambridge, did just this a couple of years ago when she helped uncover a learning disability in one of her students. 
"At a past school I was working with, I noticed one of my students was struggling in English and it had been going on for a little while. I told her to come after school and I sat down with her, talked with her, and asked her to read for me some of the book we were discussing at the time. As soon as she started reading, it was clear that she had a learning difference, so I contacted her parents and they took her to a doctor, and got her tested. The parents thanked me immensely after this and told me it had changed her life and gave her confidence that she didn't have before," McCambridge explained. 
In addition to Becker and McCambridge, College Counselor, Mrs. Becca Goldberg also strives to make an impact on other people's lives but believes that personal connection is helpful to achieve the desired result. 
"My philosophy as a counselor and a professional is to make my students or anyone I encounter feel seen and valued. I think that if you're going to have an impact on someone, you have to be interested in them, get to know them, and develop a rapport and relationship before you can do any sort of guidance or mentorship to get them to think beyond what they are currently doing,'' Goldberg explained. 
The experience of sophomore Vanessa Zito echoes Goldberg's claim that knowing someone well is an important factor for making a positive impact. 
"I volunteer at the Holy Ground Organization where I help students struggling with poverty with their school work. I noticed that the girl I was helping had worn the same shirt each day I saw her. I quickly went back to my house and returned the next day carrying the  shirts that I outgrew from when I was younger. She was so appreciative when I gave her those shirts because she saw that I was thinking of her and really cared," Zito said.  
The stories of Becker, McCambridge, Goldberg, and Zito show that making an impact can not only change someone's world for the better, but it can also make the person who is helping feel a unique sense of purpose and fulfillment. 
Leave a Comment
About the Contributor
Chase Zur, Associate Editor
Chase Zur is a sophomore and this is her second semester in The Pharcyde. Chase has attended The Benjamin School since WOW and is excited to start her...