Ms. Ashley Simmons Profile
Ms. Ashley Simmons has been the Alumni Relations and Development Manager since June 2022. Born in 1986 in Jupiter, Florida, Ms. Simmons's story began in the same place she calls home today.
Ms. Simmons is an only child and grew up in what used to be a small beach town with her mother Cheryl Simmons and her father Ivan Simmons. Her mother was an English professor at what is now Palm Beach State College and her father was the founder of Ivan's Auto Sales. 
A member of the fourteen-year club, Ms. Simmons graduated from Benjamin in 2005. Notably, she was a part of the first graduating class at the Upper School's Grandiflora campus. While at Benjamin, she was heavily involved in the performing arts including musical theater, dance ensemble, AP Art, Habitat for Humanity, and the Dance Team. She was a co-captain of the Dazzlers twenty-two years ago. 
After graduating from Benjamin, Ms. Simmons took the art route, attending the Columbia College of Chicago in downtown Chicago. After a year there, she ended up transferring to the University of the Arts in Philadelphia where she completed her BFA in Graphic Design with a concentration in Information Design.
Ms. Simmons lived and worked in Philadelphia for about ten years until moving back to Florida in 2012. Now, she is a loving Samoyed dog mom, and a lover of film, food, history, and culture.
"At that point, my career path transitioned and morphed slowly into what I do today," reminisced Ms. Simmons. "My first job out of college was in Philadelphia at an architecture and museum exhibition firm called Metcalfe Architecture and Design. This is where I was introduced to the museum world and exhibition graphic design, which I completely fell in love with and had no idea that was something a graphic designer could do."
When she moved back to Florida to help take care of her family, Ms. Simmons ended up working for the non-profit Norton Museum of Art in West Palm Beach as a Graphic Designer. Four years later, she wanted to give back to the Jewish community. She spent five years at the Mandel Jewish Community Center as the Membership Director and Arts & Culture Film Festival Manager. 
After working in the non-profit and special events world for the past ten years, Ms. Simmons found the opportunity to bring her knowledge and skills to an essential pillar of the community and her life, The Benjamin School.
"I'm excited to be back at my alma mater. It has been wonderful to see the inner workings of The Benjamin School from an administrative perspective," shared Ms. Simmons.
As Ms. Simmons explains, the Alumni Association is like a club that only a very small collection of people have the honor to be part of. TBS Alumni are extremely fortunate to have a network of 3000+ alumni out there to connect with. Ms. Simmons feels that her biggest responsibility is to be a resource to TBS alumni. She wants alumni to know that they can always return to Benjamin in any capacity.
"I just returned from a regional reunion event tour in New York City and Washington DC. While in both cities, I was amazed over how many wonderful alumni we have out there participating in the world today," said Ms. Simmons. "What made my day in DC was seeing two recent graduates from 2021 and 2022, exchange phone numbers because neither one of them had any idea that they were both in the same city let alone attending the same University."
In her short time in this position, Ms. Simmons has been able to reconnect and develop her relationships with many alumni, teachers, and staff who she has known for years or who she has not been able to connect with since graduating. She also explains that it is wonderful to work in the Advancement Office alongside three other alumni: Mr. Juan Carlos Fanjul, '93; Jessy Padon, '01; and Marti Lotman, '06. 
Ms. Simmons also works closely with the Alumni Council, which is made up of seventeen members from different graduating years.
"I have been able to connect with young alumni and established alumni who I never had the pleasure of connecting with before, which has been extremely special," remarks Ms. Simmons. "After we graduate, we don't realize that there are classes after and before us who have made an impact at the Benjamin School. It's cool to see where we all are now. What is wonderful to witness is that our Alumni love to give back to Benjamin and they thoroughly enjoy mentoring other Alumni and students."
Overall, Ms. Ashley Simmons is an integral part of the Benjamin community. Students, faculty, and other alumni appreciate all of the work she has done to make The Benjamin School a better place.
Leave a Comment
About the Contributor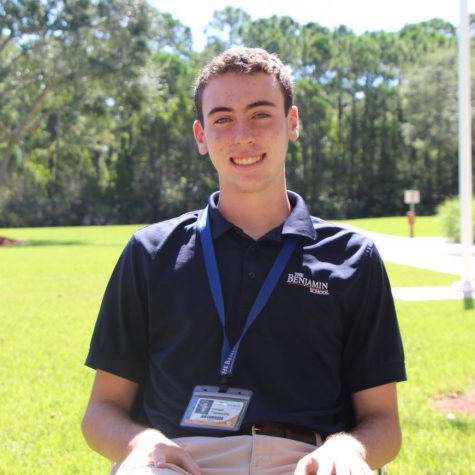 Joey Tomassetti, Managing Editor
Joey is a junior and is going into his second year in the Pharcyde. He is the Managing Editor of the paper. In his free time, he enjoys playing basketball,...