The actresses and actors at The Benjamin School consistently perform entertaining and educating plays for the entire Benjamin community. Last year, drama students showed their skills in both musicals and acting with their interpretations of Distracted and Mean Girls. As the 2023 school year proceeds, the drama students and club members have chosen their performance and hosted tryouts for the upcoming play. 
Upper School Theater Director Mr. Jason Peck directs the small cast of six (alphabetically: Natalie Bain, David Frear, Rebekkah Merkel, Harrison Poulakakous, Ava Shawe, and Sage Sorenson). Technical elements are again under the guidance of Mr. Chris Bell.
President of the Drama Club, Senior Xan Blount, shares what play is currently being perfected, "The play is called The Grown Ups [by Skylar Fox and Simon Henriques], and focuses on a set of camp counselors who have some struggles at camp over the summer." 
The Grown Ups is a unique and interesting play, written recently. It focuses on modern issues and ideas, such as summer camp, viral internet trends, and so much more. 
"It takes place at this summer camp called Camp Indigo Woods. The camp is for kids ranging from ages seven to nine, and it basically revolves around all of these counselors. It's them [the counselors] having the adult part of their lives separate from the campers," said Junior and actress Rebbekah Merkel. "The issue is that there is a viral trend online that turns violent while the kids are at camp. The counselors have to figure out what to do because the world is starting to fight each other, and whether to tell the campers or let the camp be a place where they can just be kids." 
While the overall plot of the play is full of plot twists and excitement, each character, or counselor, also has their own storyline or history. The members of the cast are more than excited to begin working on creating and mastering the personality and energy of the characters they play.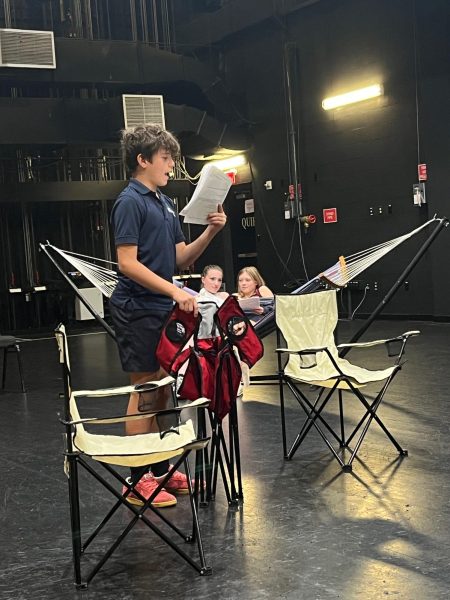 Xan Blount likes the way that each character gets their own story, "This play really has no leads as every counselor has interconnecting stories. I play Cassie, who is a new camp counselor this year, while everyone else has been going to the camp for almost their entire lives." 
Merkel, who plays Maeve also finds depth in her character: "She is a counselor who is in her early twenties. She is pretty fun and definitely the counselor that all of the kids go to when they need something. Maeve is really friendly and upbeat but she has a traumatic past, so she is very fake, but she doesn't want people to notice." 
This play offers lots of new experiences and difficulties for the actors and actresses to connect with. Although the members of the cast have had to work hard to learn how to play their roles and relay the plot in an interesting way, they are very excited to work on this piece. 
Blount shared enthusiastically, "I'm excited for this show because it's a really fun environment to act in, with our stage resembling a summer camp, and it's also going to be performed in the round, which means the audience is actually on stage with us." 
"It's going to be really fun to develop my character in a way that shows the duality between her sadness and happiness", stated Merkel, who is playing Maeve. "She is kind of preppy, and not dumb, but just really enthusiastic, so she is going to be fun to play." 
The Grownups will be performed on November 11 and 12. Tickets for the production are $10 for general admission and complimentary for Benjamin students.