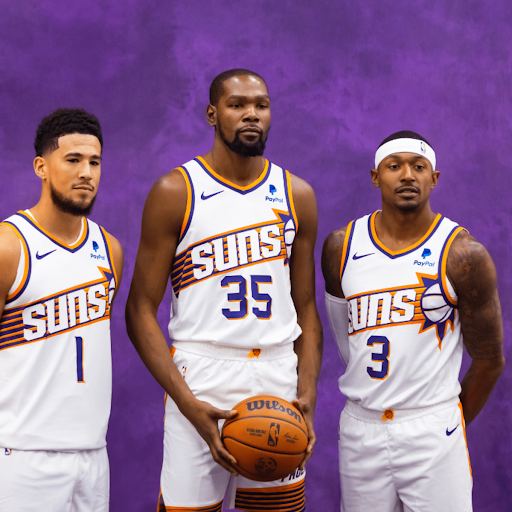 It was a long offseason in the NBA this summer. After the Denver Nuggets won their first championship in franchise history, the quest to take down the reigning champs began for the 29 other teams in the association.
Senior Zach Neidoff, a New York Knicks fan, thinks the Boston Celtics will win the championship.
"They've been so close for so long and I think this is the year they break through and win it all with their star duo of Tatum and Brown," said Neidoff.
Neidoff doesn't have high hopes for his Knicks this season.
"I'm looking forward to a promising regular season, but disappointing playoffs that are capped off by another choke job by Julius "Tomfoolious" Randle," added Neidoff.
The first team to make changes was the Phoenix Suns, who lost to the Nuggets in the semifinals earlier in the playoffs. They traded future Hall-of-Fame point guard Chris Paul for long-time Washington Wizards shooting guard Bradley Beal. A three-time all-star, Beal will team up with superstars Kevin Durant and Devin Booker to form a potent big three in the Western Conference.
Then, a few weeks later, Paul was flipped to the Golden State Warriors for guard Jordan Poole. Paul adds to a legendary Warriors core that includes future Hall-of-Famers Steph Curry, Klay Thompson, and Draymond Green.
Sticking in the Western Conference, the San Antonio Spurs drafted one of the most highly-touted prospects in NBA history, Victor Wembanyama. "Wemby" is the third first-overall pick in the Spurs' history, with the other two being Hall-of-Famers David Robinson and Tim Duncan.
Then, at the start of free agency, the biggest domino fell in the Pacific Northwest. Seven-time all-star point guard Damian Lillard requested a trade from the Portland Trail Blazers, the team he had spent his entire career with. Lillard specifically asked to be traded to the Miami Heat, but the Blazers refused to send their franchise legend there due to their distaste for the Heat's assets.
After two months of rumors and reports, Lillard was finally traded to the Milwaukee Bucks for all-star point guard Jrue Holiday about a week before training camp started. Lillard joins superstar Giannis Antetokounmpo on a team that is desperate for another championship. Holiday, a highly coveted player by contenders around the league, was flipped to the Celtics a few days later.
The Celtics also traded for all-star center Kristaps Porzingis from the Washington Wizards in a three-team trade that sent former defensive player-of-the-year Marcus Smart to the Memphis Grizzlies. Now, the Celtics have one of, if not, the best starting lineups in the league.
Other teams made solid improvements around the edges, like the Los Angeles Lakers and the Houston Rockets, but the overall feeling is clear: the Suns, Celtics, and Bucks are this offseason's biggest winners.
Here are The Pharcyde's picks for this year's award winners and Finals matchup:
Most Valuable Player (MVP): Giannis Antetokounmpo
Rookie of the Year (ROY): Victor Wembanyama
Defensive Player of the Year (DPOY): Bam Adebayo
Most Improved Player (MIP): Scottie Barnes
Sixth Man of the Year (6MOY): Normal Powell
Coach of the Year (COY): Joe Mazzulla
NBA Finals: Milwaukee Bucks defeat Phoenix Suns 4-3