Athletes Find Collegiate Success Outside the Benjamin Bubble
Many of our athletic achievements seem quite impressive from our 14 state championships and countless regional and district wins. How do our athletes perform outside of the "Benjamin Bubble" and our 7 school league? 
You may have read about our recently graduated football players, Jordan Travis and Kaiir Elam. Jordan Travis graduated from TBS in 2019 after playing 3 years (came as a sophomore) on the football team under Coach Ream and Coach Kresser as the Offensive Coordinator. This year Travis is the starting quarterback as a sophomore for Florida State University. He led the Seminoles to a 41 – 24 win over Jacksonville State. He broke ahead with 210 passing yds., two touchdowns, and 12 out of 17 completed passes. 
Travis is not the only highlighted Benjamin sports alumni. Kaiir Elam plays for FSU's arch-rival, the Florida Gators. He is a starting cornerback wearing the number 5, drawing eyes from around the country being spoken about as one of Florida's top cornerbacks as a sophomore to come through the school. 
In the past few weeks, Elam and Travis have proved that Benjamin athletes continue to show up and show out in the college environment. Not only have these two been stars on their own, but when 2 players are being highlighted around the country in the Florida area it draws attention, and Benjamin has the honor to have both of them as alumni. 
In addition to our impressive football showing lately at the college level, TBS has the privilege to have Isaiah Thomas as an outstanding athletic alum. Thomas graduated in 2018 and continued his baseball career at Vanderbilt University, despite being drafted as a 39th round pick by the Colorado Rockies. He has had a tremendous showing as a collegiate baseball player and has been labeled the SEC 26th best 2021 MLB draft prospect. 
Thomas has shown tremendous promise seen by his teammates and coaches. Vanderbilt Baseball Head Coach Tim Corbin had this to say about him, "IT continues to grow as a player in our program. He took full advantage of every opportunity that he earned in his freshman year. He had some big hits for us and also played some very good defense. His tools are exceptional, it is a matter of him getting game experience and opportunities".  
With Travis, Elam, and Thomas all making names for themselves, they are also motivating and inspiring athletes that currently attend TBS. The Benjamin Bubble fortunately has not stopped our athletes from performing at high-level collegiate sports. Many other names that have been heard throughout the years have come from Benjamin as well further proving the high level of Benjamin athletes. Will Nicklaus (UNC Lacrosse), Gary Nicklaus (Former PGA Tour Player), Alex Vogelsong (Auburn Golf), and Christian Cropp (Yale Lacrosse) are just a few of the successful Benjamin athletes that Thomas, Travis, and Elam will accompany.   
Leave a Comment
About the Contributors
Catherine Civitella, Staff Writer
My name is Catherine Civitella and I am currently a Junior at TBS. I enjoy playing sports and working with others. I have hopes of pursuing marketing or...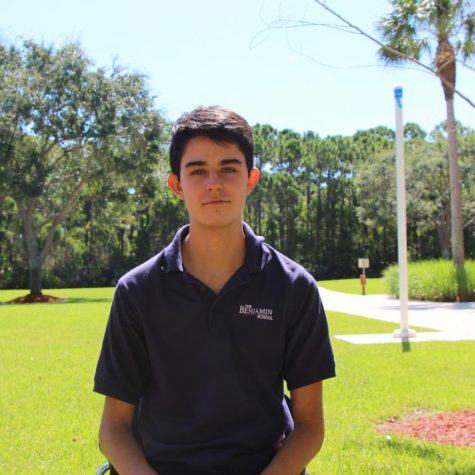 Evan Liberman, Managing Editor
Evan is a senior and in his third year at The Pharcyde. He serves as Managing Editor of the newspaper and is President of the affiliated writing club....